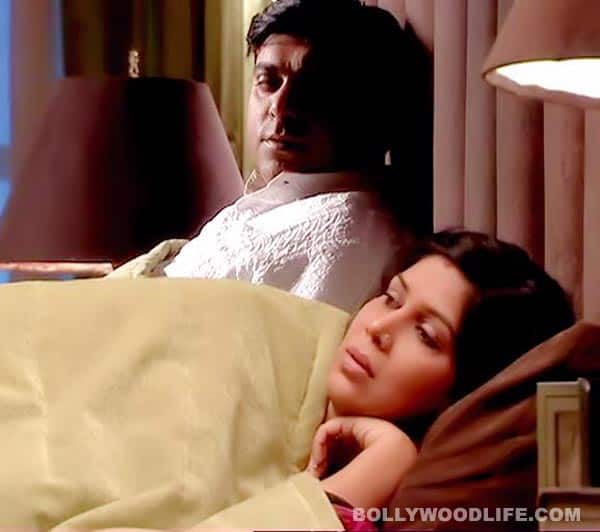 It was the love-making scene to top them all, when two stout, middle-aged people got passionate in the prime time soap Bade Acche Lagte Hain. And now it happens again? Sigh…
A few months ago, Ram Kapoor and his onscreen wife Priya Sharma-Kapoor (Sakshi Tanwar) let it all out…err…in a manner of speaking, of course. They got down and dirty with a love-making scene that began with a couple of intense kisses. And even as Priya sighed and stretched with the passion her man was causing her to feel, we sat back at home and kinda went 'Ewwwww!'
Well, hell, it was not badly done, just completely off-putting since watching two middle-aged and out-of-shape people hugging, kissing and breathing heavily is as comfortable a visual as seeing your parents making out on the sofa in your presence. See what we mean?
And now we hear that the scene will be replayed, with some changes, tonight. It will be a lot more suggestive, says the portly hero Ram Kapoor, with not so much of the explicit and steamy stuff that was so talked about the last time around. Ram and estranged – well, perhaps not, considering that they end up in bed together – wife Priya will get jiggy sometime during the multiday wedding of their good buddies Neha (Tarana Raja) and Vikram Shergill (Jai Kalra). It will be more about emotions, depth, the unsaid and undone rather than the words and the action, our man tells us.
But what next? The last time, Priya went to jail, 'died', had a baby, lived in Dubai and then came back to India to start a prolonged war with Ram. This time, we expect something as tortuous, especially considering the fact that Ram is now married to Ayesha, who is having a thing with bad man Siddhanth Kapoor (Mahesh Shetty), who is in hiding, last seen as a rather ugly fuzzy dog (in full costume, of course) at a kiddie party.
The mind boggles. All we can say is, wait and watch. Tune in tonight to see the fun start in Bade Acche Lagte Hain on Sony!