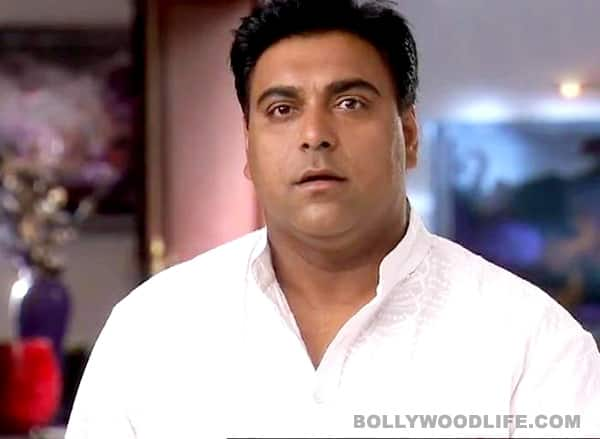 Contrary to earlier reports that Golu Uncle will die of a gunshot wound, the new buzz doing the rounds is that he will survive! But, how?
The promos of the maha-episode, one that brings together Bade Acche Lagte Hain and Kya Hua Tera Vaada for a day, have sent the audiences into a tizzy. And if you've watched this teaser, you might have believed that Ram Kapoor – in all probability – is set to die of gunshot. Didn't you? After all, the doctor's tragic statement didn't leave any scope for doubts, no?
But whoever said television shows are predictable. Our smart birdies have sniffed around and unearthed the delightful news that Sakshi Tanwar aka Priya Sharma's darling husband will live. The bullet, we are told, will hit both Ram and Pradeep Singh (Pawan Shankar) of Kya Huaa Tera Vaada. But how? Will Ram's rotund belly deflect the bullet? Perhaps.
If buzz is to be believed, Ram will be out of danger in no time (maybe after spending a teeny-weeny while in coma), but Pradeep will remain critical for sometime. This will be followed by a 10-year leap in KHTV. On the other hand, Priya will win the case for Pihu's (Amruta Mukherjee) custody in BALH. And maybe, we will see the estranged couple patching up and living a happy life – for a short while, of course – owing to Ram's injury.
But hey, will this really happen? Ram Kapoor fans are hopeful of that. And maybe the 'boo' BALH got after it aired the promos showing RK in danger knocked some sense into the makers, who convinced Ram to make space for the television show in his date diary cluttered with movies. Possible, no?
Or was the whole idea behind Ram Kapoor's 'rumoured' exit just a way of creating hype around the maha-episode to boost TRPs? Well, whatever be it, we will wait and watch to find out if the strategy worked. Ciao!