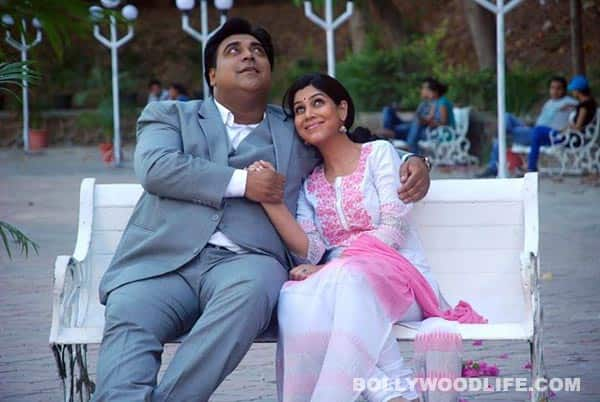 The story of the serial had been dragging for months but to make up for it, there has been a torrent of developments. And we are finally having fun again!
It has been a long couple of months for us while watching Bade Acche Lagte Hain. The family feud has been dragged out so thin that we were, frankly, bored, to the point of considering switching loyalties to another show…any other show. And then stuff started whizzing along. Now we are sorta getting interested again. And that switch came when Natasha Sharma (Sumona Chakravarti) slapped Ayesha Kapoor (Akanksha Juneja). We almost cheered.
Yes, it had a backstory. Ram Kapoor, wife Priya Sharma (Sakshi Tanwar) – who are not talking to each other – and daughter Pihu (Amrita Mukherjee) are on a plane to somewhere when it crashes. There are the horribly tacky scenes of plane debris and bloody bodies lying around, with some people being helped to safety by more gore-splattered folk. Along the way our main man Ram is seen leaning against a tree, his suit still immaculate, his head decoratively smeared with red stuff.
In another part of the forest that the plane has crashed in is Priya, her hair artistically messy, her clothes clean and ironed. After some wandering about and wailing, the warring couple meet and together find Pihu, who is nicely arranged on her back with her eyes firmly shut. More wails later, a group of camouflage clad rescuers arrive, take everyone to makeshift tents and rush around doing some…err…rescuing. A cheerful doctor tells Ram and Priya that Pihu is in a coma, which the child wakes up out of in an instant and is perfectly fine and in the present. There is some weeping, lots of emotion and we zoom back to the Kapoor Mansion where more fun is in progress.
Yes, Ayesha is up to her usual tricks and is there demanding a settlement of property now that Ram is dead. And after her most delightful speech she is whopped across the face by Natasha, who has seen the error of her ways and reunited with the family. This, for us, was fun. Soon after, with more emotional fluttering from Neha (Tarana Raja Kapoor) and long faces in close ups, Ram and Priya enter and the loving reunion and forgiveness picture is fully painted. But Priya is uneasy – after all, it has been an ordeal and she is pregnant – and has to be rushed to the hospital.
After a checkup, Ram is told something by the doctor and has to tell Priya what that is. Go on, take a guess! No? Well, here it is: turns out that Priya is having not one baby, but two. Twins. And Ram will soon go crazy planning for two children to join his menagerie. Yes, yes, you know that will happen. And is that the right time for the leap that we have been looking forward to? Who knows! But it does open up all sorts of fun possibilities, with good twin-bad twin and other interesting potential stories. Are you looking forward to watching this show now?