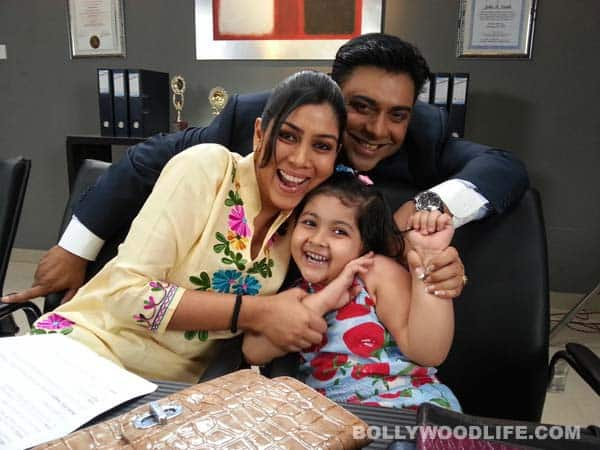 Soon you will see this once-rich family struggling to make ends meet in the dusty gallis of Jaipur, Rajasthan. And then what?
Ram Kapoor and Priya Sharma (Sakshi Tanwar) have finally patched up. But nothing's even remotely close to the fairy tale happily-ever-after, thanks to evil Ayesha Kapoor 'coz of whom our adorable Golu Uncle moved out of his mansion to live with darling wife Priya a few days ago.
Birdies chirp that the makers have scheduled a six-month leap and the show will fast-forward to a time when Ram, Priya and little Pihu will be trying hard to settle down in the hot and dusty capital of Rajasthan, Jaipur. And, as pointed out by that same now-wailing birdie, Ram has been ripped of all the affluence that kept him cushioned from the sweaty realities of the world. No swanky family business for the Kapoor now. Only a measly factory, as we've seen in the last episode. But what if the factory runs into some trouble (as they usually do in such soaps)? With no stinking-rich family by his side, how will Ram Kapoor cope with such a calamity? Fikar not, Mr Kapoor, 'coz we have a string of back-up plans ready!
For starters (no pun intended), Ram and Priya could open their very own alu parantha stall. Sounds yummy? We heartily vouch for this idea, 'coz this is one business that will help Ram focus – for obvious reasons, of course – and make him forget the harsh conditions he has to endure. Right? But then, we fear that very few, if any, of those greasy paranthas loaded with butter, all made by Priya would be left for sale. Tch, tch.
Another good option could be to set up the Kapoor gym, one that would do loads of good to Mr Kapoor – especially after all those paranthas he would have eaten – and others in the locality. Could an occupation get healthier? Naah!
But what will Priya do? This fiercely independent lady is not likely to agree to be just a housewife, that too with no scheming mom-in-law or sisters to fight. Ah, but we have chalked out an option for her too – she could open a workshop called The Perfect Wife, a platform where Madam P would dispense all possible gyaan on how to appear correct, benevolent and almost devi-like in this big, bad world. Success toh hoga, na?
As for Pihu, she is going to be too busy fighting for a window seat in an old, rickety school bus (no swanky car rides to school any more, remember?) to care much about profound changes happening around her.
Happy with our ideas? No? Okay, then you tell us what you think Ram, Priya and Pihu should do to make a living in Rajasthan. C'mon, quickly!