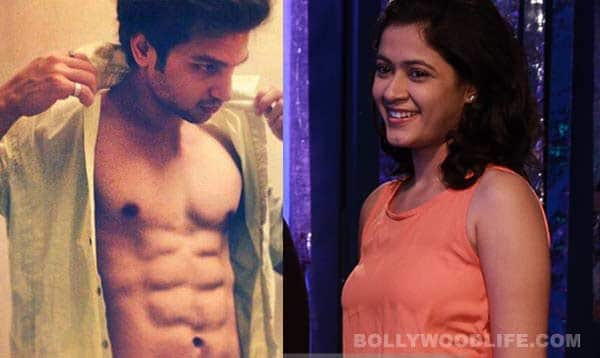 Who knows, but the two young people seem to be rather more friendly than they themselves realise, no?
All along we have seen that while the elders – Ram Kapoor, Priya, Neha (Tarana Raja) and Vikram Shergill (Jai Kalra), Juhi (Shubhavi K.) et al – are playing the worried and hardworking grown-ups on Bade Acche Lagte Hain, the younger generation is seen as playing hard, working hardly at all and being generally spoiled brats with little value beyond causing worry to their parents.
But now we see potential for a seriously interesting track to take off. For a while now we have watched Sammy Shergill (Yuvraj Thakur), son of Vikram and Neha, playing no more than the privileged bad boy, but now he could become more than just that. From what we can see, he could be developing a love interest; yes, in Suhaani (Ekta Kaul), the young intern who looked after Priya when she was in a coma and who still drops by to check on her former patient. After all, he keeps trying to flirt with her and she gives him no attention, na? Which we all know is the best way to start a love story.
But there is a potential complication. According to Khush Kapoor (Aditya Kapadia), the son of Siddharth Kapoor and Priya's sister Ayesha Sharma, Sammy has a 'thing' about Pihu Kapoor (Sonia Balani), Priya and Ram's daughter. And when Pihu asks Khush what he thinks of Sammy, she is told that the young Shergill lad is in love with her. Eh? When did that happen?
According to Khush, Sammy may have lots of girlfriends and be a flirt, but whenever he needs to talk to anyone, it is always Pihu he chooses. What complicates the whole thing is that Suhaani tells Priya that Sammy likes Pihu but that the lad is a bad influence on the girl. So when Priya asks Sammy what is going on, he gets miffed and leaves, insisting that Pihu and he are just best friends and no more. Why then does Pihu decide to lose weight since Sammy likes slim girls?
Is there a romance brewing between the 'good friends'? We hope so, because it will be fun to focus on something more than just rona-dhona, hai na? And a young love story would be so happily fully filmi!