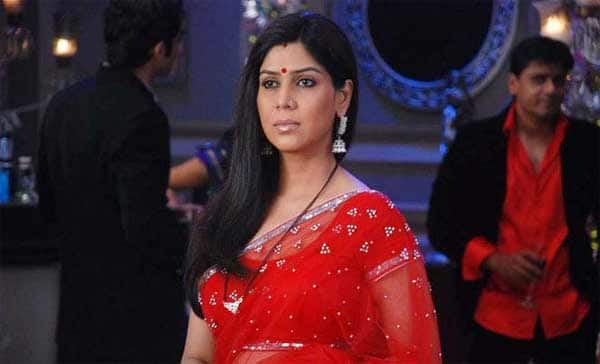 She has done it before – the loving couple have spent plenty of time apart. But this time, will Priya really not go back to her husband?
We ask you this question every couple of months, since it is that often that Ram Kapoor and his wife Priya are separated on the popular telly-soap Bade Acche Lagte Hain. Whether it is the story itself taking all the twists and turns or the actors' holidays being woven into the tale, we wonder, but every now and then one of the main stars of the show does a vanishing act that cheat shots cannot completely make up for. Not too long ago, Priya spent seven years in a coma and Sakshi Tanwar was rarely seen, having taken off for somewhere else. Was it to shoot for a film, make a new TV show or get married, we do not know and are still wondering. But this time there is some logic to it, as much as there can be on a melodramatic Hindi soap opera.
Ram did not tell Priya that he was going to marry Juhi, for whatever reason. But his patni knew almost everything else, from the truth about Pihu's 'bad behaviour' and their divorce, to the fake alibi that Juhi gave Ram in court, claiming that they were together at a time that needed to be accounted for in a tax evasion case. So the planned wedding too should have been talked about, Priya insists. On the other hand, Ram protests saying that Dr Suhaani had forbidden it for the time being. He had instructions from the doctor- not to tell Priya before she was strong enough to handle it, he explains. But his beloved wife is in no mood to accept or understand…or even listen. And she refuses to talk to him; going back with him to the Kapoor mansion is another story.
So Ram waits in his car, while Priya looks down from the window at his sleeping form.
Will she go down and throw a blanket over her husband in a show of concern that will be explained as love once her anger fades a bit? Or will Ram have to go home – at least to bathe and change – and get tangled up in something else and not be able to return to Priya's parents house as soon as planned, which will of course give rise to more confusion? Or will Ram move in with Sudhir and Shipra Sharma and his little sister Natasha and badger Priya every day about returning home with him?
We cannot wait to find out. Of course, if the show is indeed ending early next year – something that producer Ekta Kapoor denies vehemently – everything will snowball to a happy ending and we will be spared weeks of argument and tears. If it does not, wait and watch for what happens next!