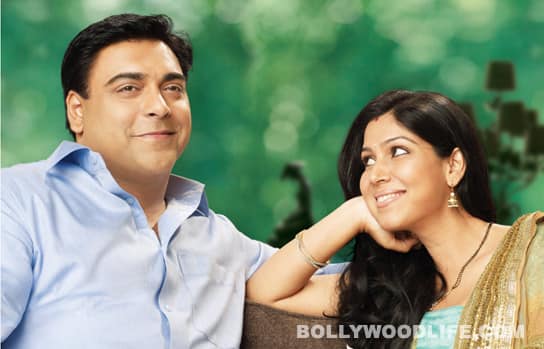 It's all about passion and steam, but did Ram Kapoor and Sakshi Tanwar manage to generate any in the great consummation scene in the TV serial? Wethinks not this time…
It was late last night and all through the house nothing was stirring. Everyone was glued to the television, waiting for the love to unfold. And as it did, there was a general stir…people got up and slid out, until only I was left sitting there, wondering why. But since I had mustered up the crowd for this, I had to wait it through. It was not easy. In case you are wondering what I am blathering on about, it is simply this: the great love scene between Ram Kapoor and his 'wife of convenience' Priya was scheduled for last night (March 12) on Sony TV, as Bade Acche Lagte Hain reportedly made Hindi television soap history. Last week, as a cliffhanger, Priya told Ram as she was yelling at him that she loved him. In true Ekta Kapoor soap opera style, she said it over and over, screaming, with camera cuts and close ups, her hair dishevelled, her sari flowing, her eyes brimming over with more glycerine than in all of the soap-making world. The evening ended with Ram dragging her into a clinch, their faces suggestively mashed against each other, her eyes rounded first in shock, then closed with what could have been passion. The teasers promised huge helpings of steam and…wow!…sex.
And kya scene tha! There were close-ups that went so closeup that you could see every pore on Ram's nose and every spot – heavily covered with makeup – on Priya's cheeks. That was tolerable, almost, and then the director had his stars acting coy. Which caused the exodus from my TV room – a 40-something hero and a 30-something heroine should be far beyond the stage of behaving like shy teens in an old-style Hindi movie methinks. There was her face covered with a pallu that he slowly dragged away, there was a shiver as he nuzzled her neck, there was a languishing as she lay back and thought –hopefully not of England – loving thoughts of him as he made love to her. She did not seem to have much of a role to play, his tentative explorations were perhaps the only in-character and charming aspect of the whole awkward moment. The texture of my sofa cushions was more interesting to look at; what was happening on TV was embarrassing and presumably unintentionally hilarious. Mercifully,the scene cut to the aftermath, when a huge heap of quilt hides our stout hero, exhausted by the drama, while our heroine produces another dose of coy by showing bare shoulder and smiling beatifically at her man.
There will be more, with flashbacks and wifely behavior, weknow. And boy, we can't wait to see if it all works out to be as inane as what happened last night!
ALSO READ: Ram Kapoor doesn't want to lose weight!
READ EXCLUSIVE INTERVIEW: Tarana Raja: I would've fallen in love with Ram Kapoor in 'Bade Acche Lagte Hain'!