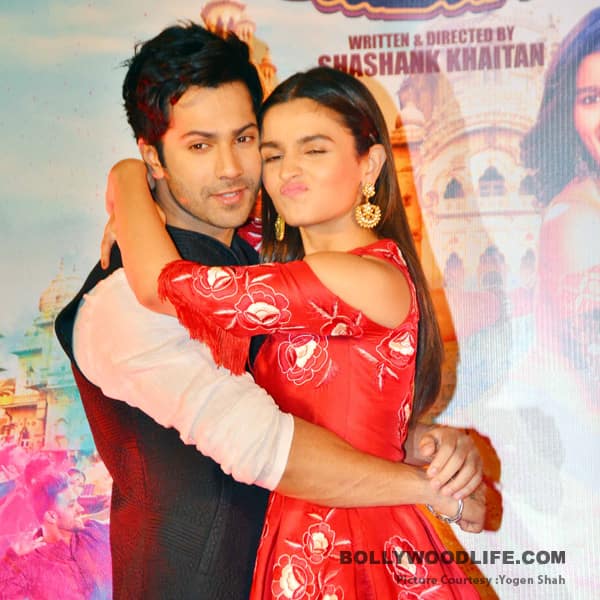 The first two songs of the upcoming film Badrinath Ki Dulhania are chartbusters. The title track and Tamma Tamma Again are rocking the music charts, and now the third song Humsafar is all set to hit the internet. The song featuring the lead actors of BKD, Alia Bhatt and Varun Dhawan will be launched t0day. But before that, Varun and Alia gave us a sneak peak of the soft romantic number. The two actors hummed a few lines from the number and shared it on their social media. From the very short glimpse of it, Humsafar looks like a track we all should watch out for. Alia first took upon the task to hum the first two lines and shared it on her Twitter, and passed on the baton to Varun. "Okay Badri, now since you keep making me sing, you have to sing the next two lines," she says in the video.
Sun mere #Humsafar!!!! Okay now it's your turn @Varun_dvn to sing haha next two lines over to you 😎😎😎😎 pic.twitter.com/wejCG74Vhm

— Alia Bhatt (@aliaa08) February 17, 2017
@aliaa08 here you go KI tera sassan chalti jidhar #humsafar now you go pic.twitter.com/0EFLRRUWoT

— Varun Badri Dhawan (@Varun_dvn) February 17, 2017
Varun then took on the challenge and replied by crooning two lines. All we have to say about his singing is that it would be better if we limit this melodious-banter to just Alia. But the song does seem to be very soulful, and romantic. We only have to wait for a few hours for the full version.
Though the two actors continued the exchanges of their song lyrics.
Haha that was fab @Varun_dvn!!!! Full feel ❤️ back to you 🙂 #Humsafar pic.twitter.com/FHNG2uvVvt

— Alia Bhatt (@aliaa08) February 17, 2017
Varun probably realise the thing about the quality of his voice and hence switched to a Snapchat filter.
@aliaa08 here this ones for you stop making me sing #Humsafar pic.twitter.com/TLEHz5gchL

— Varun Badri Dhawan (@Varun_dvn) February 17, 2017
Alia and Varun are indeed going all out to promote their upcoming film. Film's producer Karan Johar quipped on his chat show Koffee with Karan that the two actors behaving as if they were the leading the marketing team. He event went on to remind that they are actors not part of the marketing team. Varun and Alia said that they can't help that they have so many new ideas to share and execute. Well, keep those ideas coming, guys! We totally loved this latest one.