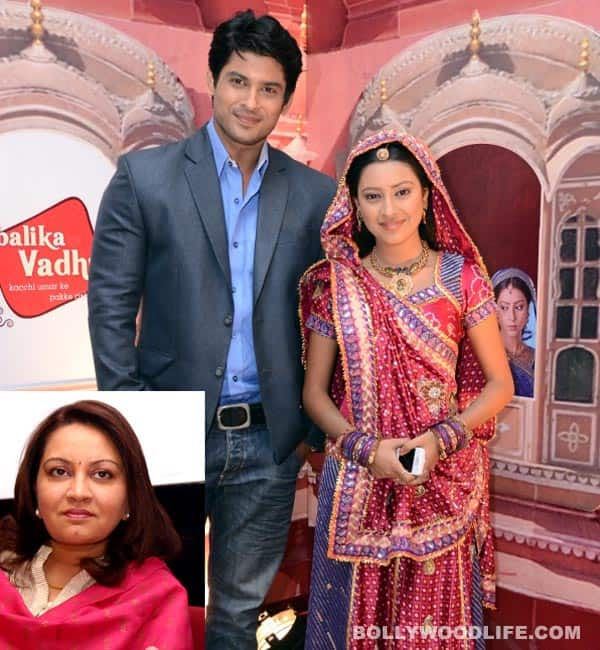 She advocates woman power through her stories and maintains that writing about them is what she loves doing
Popular author of shows like Astitva, Balika Vadhu and Veera – Gajra Kottary talks about her long running stint as a writer, the trouble she faces when actors threaten to quit, the pressure of TRPs, why most serials fail and what inspires her most.
How did you come up with the concept of Balika Vadhu?
I did not come up with the concept. It is co-writer Purnendu Shekhar's idea. We began working together 15 years ago on Zee TV's popular serial Astitva. Purnendu thought child marriage would make an interesting show.
What kind of research is involved in writing a show like Balika Vadhu?
We did the major research when we sat down to sketch the basic storyline. The data is easily available; it's not like we went to libraries and rummaged through dozens of books. At the end of the day, Balika Vadhu is not based on dead facts, but is about real people. We found that child marriage is still prominent all over India and worldwide. The stories we heard were heart-wrenching. But we did go back to research at various times when we needed a law angle to the story. Besides entertainment, the show is a medium to give information to viewers who have witnessed such things. Most of time the story is woven around the characters, but in order to be accurate, we often went back to the research. In fact, the law has given us more scope to make the show better.
We've seen child marriage, illiteracy, widow remarriage, infidelity, rape…what's left?
There is no agenda that we have to cover these topics or any other social issues, for that matter. It's more of a moral position we take and not social. We are never going to run out of things to say, provided it makes an entertaining story. Now we are trying to incorporate a track about the IVF process for couples who can't have kids, which is a very progressive thought. There's no message in it, but I believe people watching the track may find a solution if they have an open mind.
The show has been a pioneer of sorts ever since it was launched. Did you ever feel the pressure of keeping things fresh?
The pressure is always there. We have set a standard, so people will not accept anything less than that. It's not easy to do that even after four years, but somehow people are always gaining from the show. Pressure is there in every show, but it's important to not buckle under it. Once we set a tone for the show, we have to keep that tone going and still show something new. The idea is to balance it out and that's how the show can be kept running for longer.
What's a brainstorming session like?
Frankly, it's difficult to explain the process. We had a discussion on where the story was heading when it launched and after a month we were already planning the story for the next six to eight months. So the brainstorming sometimes is done for a long, mid and short term future. We keep piling it up in our head as and when we get ideas, and the put each out at the weekly meeting. Everyone has an idea, but the key is to think objectively. We meet once or twice a week and sometimes we discuss things on the phone. The deadline increases the pace to get the episodes going.
How do TRPs affect the track?
Well, if a story doesn't garner TRP, we don't change the track immediately. We take a calculated call and cut it short if necessary. If it doesn't sit well with the audiences, we have to change it. We've done that thrice in Balika Vadhu.
Anandi seems too good to be true as a character. Will she ever have a grey shade?
No, there is no plan as such. People watching TV want an iconic character, someone they can follow and idolise, and that's exactly what we kept in mind when we graphed Anandi's role. Anandi is not realistic; she is larger than life. People look up to her and we don't mind or regret it. This is just the need of the medium. It would be different if this was a book.
Balika Vadhu faced flak because people claimed that the show was regressive…
I have a lot of issues with this approach. It's not a film that I can show the whole story in an hour. If I am making a serial on widows, I am going to take some time to show the plight of widows, am I not? The serial shows the whole journey and its effect on the character. I am making a show, not a documentary! I have to make feel sorry for her plight. Balika Vadhu has always been progressive, right from the beginning. When Dadisa's character went through a conscience alteration and wanted to build a new life for Anandi, people began saying that the show was more progressive. Our hearts were always in the right place. We showed her strength and conviction throughout her journey.
What is your view on daily soaps today and how do you think they can change?
There are a few good shows. A lot of them start off with interesting and good concepts, but there is not much consistency. After a few months of going on air, it loses the original concept. The message is completely lost and the show is running on a completely different tangent. Four months down the line, the theme doesn't even exist. We in Balika Vadhu constantly remind ourselves that this is the story of child marriage. If we can no longer narrate the story of Anandi, we are telling the saga of Ganga, but it's still the story of a balika vadhu, a child bride. There is no long term planning in some serials. I know it is difficult, but we have to know where we are heading and our ultimate destination, even before we begin.
Do you get to decide the actors you want for the show?
Yes, definitely. After the candidates are shortlisted, the final call is taken by the writers and channel representatives unanimously. It's a collective decision.
What kind of trouble do you face when actors threaten to leave the show?
It is very difficult to handle such a situation. It's not so much when an actor quits, but when there is unrest. See, actors normally are concerned with only their track and how their roles are shaping up, whereas we have to think how to tell a good story. Then we have to think how to give everyone enough importance in a show with over a dozen characters – it's a little difficult to do so. We face this problem, but we try and go by our conviction – sometimes the balance is just difficult to maintain.
Your stories always revolve around a strong woman. Is there any part of you in the characters you write?
Yes, there's a lot of me in everything I write. Writers tend to weave characters around the people you see every day. We incorporate our personal experiences into the story. Like in the new show on Star Plus, Veera – the situation faced by the brother and sister are very similar to things I witnessed as a child. It keeps coming back to me. That's my fodder.
Moving from your usual style – will you ever write about a male protagonist?
Yes, I have two subjects – one is a film which has two male protagonists and the women are nowhere as important as the men, which is a big struggle for me. It's something very new. Secondly, I am writing a new show, which is male-centric. Having said that, I like writing stories woven around women, but I don't think I neglect my male characters.
What is more satisfactory to you as a writer – TV shows, movie scripts or books?
Books, definitely books! As a writer, books are a liberating process. It is something entirely yours. But TV has its own perks. It made me a better person, a good team worker, coordinated, tolerant. I learnt to compromise, but if you do only that, then there is a chance you will lose your own conviction.
How many hours do you write in a day?
These days I am writing close to nine to ten hours, something I want to cut down. I used to earlier write for about six to seven hours a day. If I keep up like this, I will lose out on a lot of other things and become a couch potato – and not the usual kind!
Besides writing, have you tried your hand at anything else?
Only different forms of writing – I have been a journalist, written short stories, TV shows and movies. I never thought of doing anything else.