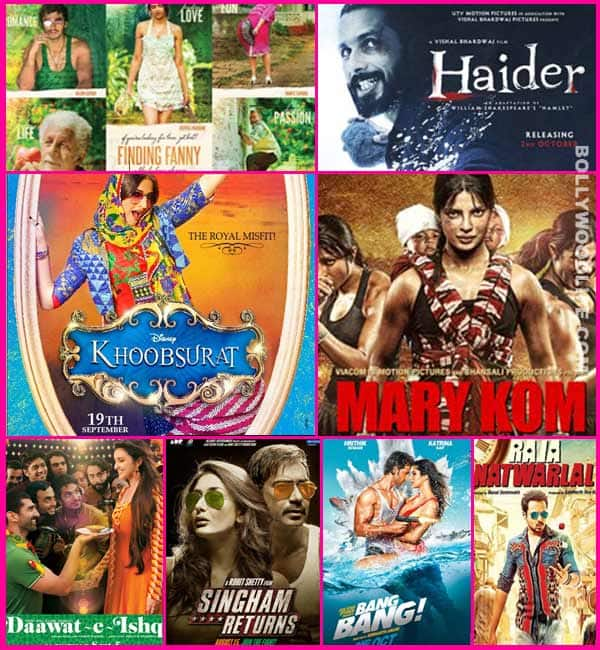 Trailers set the mood of a film and these past few weeks have witnessed the launch of trailers of loads of films that will hit the theatres in the second half of the year. Since we didn't have any parameters to measure which among the lot will be a bigger hit, we decided to check as to who reached a million views on YouTube. Here's what we found out…
In the past few weeks, audiences have been flooded with trailers from some of the most hyped B-town movies, which are going to release in the second half of 2014. What amazes us is the fact that they have all been competing with each other in the race to be the most viewed on YouTube. So we decided to unravel the truth and here's what we found:
Scoring the first place is Hrithik Roshan-Katrina Kaif starrer Bang Bang reaching a million views on YouTube within 24 hours. Grabbing on to the second position is Priyanka Chopra's Mary Kom, that took about 33 hours to reach the coveted target. Ajay Devgn-Kareena Kapoor Khan starrer Singham Returns reached a million views in about 37 hours, occupying the third position. Fourth place goes to Sonam Kapoor's Khoobsurat which achieved the feat in 39 hours. Going fifth is Shahid Kapoor's Haider that reached the landmark in about 44 hours. Deepika Padukone's Finding Fanny and Emraan Hashmi's Raja Natwarlal took the sixth and seventh place in the running and reached the million mark in 45 and 47 hours respectively. The rest of the did cross the million mark but couldn't get there any sooner.
Wethinks with the response a trailer gets, it becomes pretty evident as to how much of a hit the movie will be. What do you think BollywoodLifers?
Where they stand now:
Bang Bang: 4,135,485 (2 days)
Mary Kom: 1,122,310 (2 days)
Daawat-e-Ishq: 2,402,644 (18 days)
Singham Returns: 4,199,473 (14 days)
Haider: 3,745,685 (16 days)
Finding Fanny: 3,685,921 (17 days)
Raja Natwarlal: 1,937,234 (7 days)
Khoobsurat: 1,020,705 (4 days)