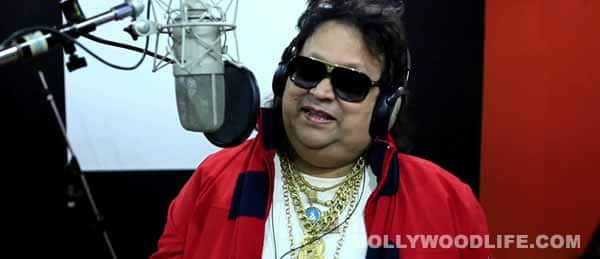 We caught a very brief glimpse of the original disco king of Bollywood being gung-ho about his new composition, due out soon…and we need more!
Bappi Lahiri is back! We tuned in to the new video from Jolly LLB for a sneak peek, but were frankly so not happy with what we saw – we were expecting to see more of the Bappi da we all enjoy watching, but the composer wants us to wait for a while longer, it seems. The 37-second video sees the Ooh la la singer introduce himself in his inimitable Bengali style – "Namashkaar, this is Bappi da, abhi main ek naya gaana kiya jo super duper hit hain… film ka naam hai Jolly LLB."
The rest of the clip has the 60-year-old composer-singer looking into the camera with his familiar cute grin and giving us a glimpse into his next 'super duper' hit track in the making. It ends with a note – Jolly anthem coming soon. Now, we can't wait to listen to the full song sung by the jolly gold-loving music man who keeps himself updated on the latest trends in music. "Composers aaya aur gaya, singers aaya aur gaya… But Bappi da is still working and loved by all. I know what youngsters like to listen to. I have always changed my style with time. I'm sure you'll love Jolly LLB new song," said Bappi confidently when we spoke to him not so long ago.
And we totally trust him to deliver a foot-tapping number…and it better be soon, coz we are not happy with this blink-and-you-miss-it appearance – we want more! Don't you?