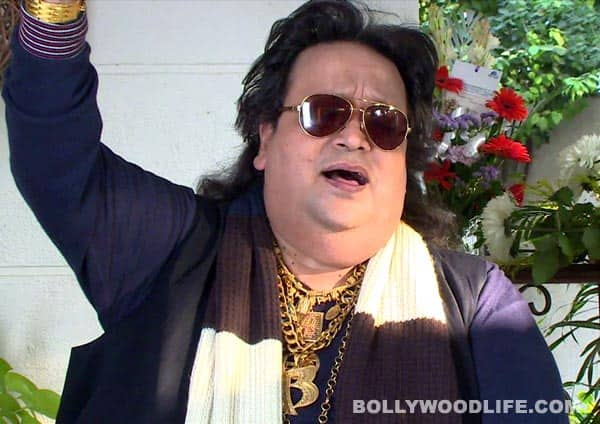 The original disco king of Bollywood talks about his four decade-long musical journey, his association with the late Shiv Sena leader, singing fewer songs, Priyanka as a singer, judging reality shows… and yes, his penchant for gold!
The saying 'great things come in small packages' seems so apt and true when you meet Bappi Lahiri, fondly referred to be almost everyone as 'Bappi da'. Perhaps one of the most talented music composers the industry has ever known, the super-melodious Bappi da recently celebrated his 60th birthday (October 27) at his palatial 'Lahiri House'. With an enviable 40-year repertoire boasting of thousands of classics to his credit, most of which made the nation go Ooh la la, the ever-cheerful legend walks down memory lane and reveals future plans…..
You didn't celebrate your birthday this year as a mark of respect to the late Bal Thackeray….
Yes, for the first time in my life, I haven't celebrated my birthday. Balasaheb was extremely close to me. I vividly remember, he came home on my birthday in 1992 and blessed me. Unfortunately, I wasn't in town when he passed away, so I decided not to celebrate my birthday this year.
You don't look 60!
Figure vigure sab dimaag mein hota hain. Bappi Lahiri aur unke gaane sadaa bahaar aur evergreen hain. More than worrying about age, I would rather celebrate 40 years of my Bollywood journey. The industry has given me a lot. I would like to thank all the people I have worked with all these years, and all those who have been instrumental in my growth as a composer and singer. I feel blessed. The disco songs I have created are still played and enjoyed at every discotheque.
You've composed thousands of songs – do you find it difficult to update yourself with contemporary music, keeping the tastes of young people in mind?
Composers aaya aur gaya, singers aaya aur gaya… But Bappi da is still working and loved by all. I know what youngsters like to listen to. I have always changed my style with time. Sajid-Wajid has recreated my two superhit compositions – Naino mein sapna and Taaki oh taaki in Sajid Khan's Himmatwala. I've also sung one song for Himesh Reshammiya for Shortcut Romeo starring Neil Nitin Mukesh. Then there's KC Bokadia's delayed film Deewana Main Deewana starring Govinda and Priyanka Chopra.
Recently you said that you strive to create at least one or two hit foot-tapping numbers in every film you do just to stay in people's minds…
Ooh la la is the biggest song of the decade. No other song can ever beat the super success of Ooh la la. Kitna picture aaya aur gaya, magar Ooh la la jaisa successful koi aur gaana nahi ho paaya. In my entire career, the only song I've sung four times on stage is Ooh la la.
Surprisingly, you didn't cash in on your singing successes. Why?
Aisa nahi hain – if I get good songs, I definitely sing. I have been very selective with my work. But it's not that I'll sing only my compositions – like I am a disco dancer.
Who is your favourite composer?
Everyone has got their own style and sense of music. But my favourite is Vishal-Shekhar. We made two super-hit movies together – Taxi no. 9211 and The Dirty Picture.
Why do you think the zing is missing in music today?
I don't think the zing is missing. Composers create what people like to listen to. But I think the current trend of bad lyrics should end. Earlier the compositions had meaningful lyrics by talented lyricists like Anand Bakshi, Majrooh Sultanpuri and Indeevar, among others. The poetry has disappeared now.
With new improved technology in music, do you think it's easy for anyone to become a composer and singer today? For instance, Priyanka Chopra…
I don't think so. I've heard Priyanka's song. She has sung it well and has a good voice.
Why don't we see you judging singing reality shows?
I've been keeping very busy with musical concerts over the last couple of months. Time hi nahin hain. I'm booked till March next year. I've agreed to do Zee Bangla Sa Re Ga Ma Pa only because it's a ten-day contract.
The gold price has shot up considerably, but we heard you still buy gold very often. Why are you so obsessed with it?
Gold completes my identity. People call me 'golden man' and I consider them to be my 'golden fans'!
Watch Bappi Lahiri video interview: