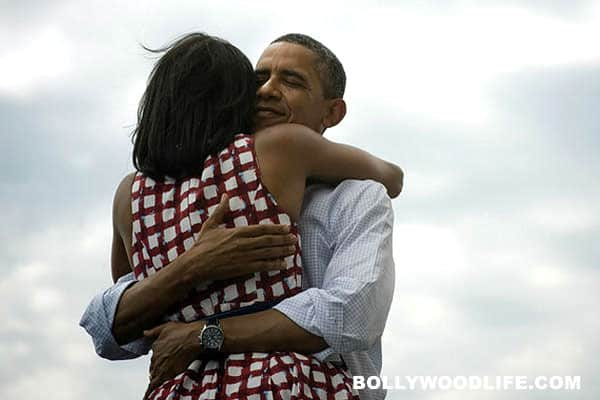 As Barack Hussein Obama wins second term in the US presidential office by defeating Mitt Romney, B-town celebs take to Twitter to air their opinions about the historic victory
Barack Obama was re-elected as President of the United States on Wednesday after beating his Republican rival Mitt Romney, and a wave joy swept across his supporters. After his remarkable victory, Mr President immediately posted a picture of wife Michelle Obama hugging him tight.
"This happened because of you. Thank you," Obama tweeted. "We're all in this together. That's how we campaigned, and that's who we are. Thank you," added the newly elected US president on the microblogging site.
Bollywood celebs didn't take too long to share their views on Obama's historic win. Take a look at what B-townies had to tweet!
Mallika Sherawat
"Congratulations President Obama 4 winning the 2nd term:)"
Kunal Kohli
"Obama.What a speech.He's not defensive about his party or attacking the other,but talking about how he can take his country further"
AR Rahman 
"Barack Obama ji… Yes! You can, again… Mubaarak USA!"
R Madhavan 
"The "wooo"desi with the widest toothy grin in the background kept distracting me while listning to Obama's speech.
Neil Nitin Mukesh
"OBAMA !!!!!! All the way"
Amitabh Bachchan
" A well deserved congratulations to President Barack Obama for securing another term as leader. D democracy is such a great thing!":)
Dia Mirza
" Has there been any politician in recent history who can speak as well as Barack Obama? Especially in big moments." NONE . Its good to see a country elect leaders where they don't have to choose between the lesser evils but between the greater common good."
Ranvir Shorey
"We are more than the sum of our individual ambitions.."
Soha Ali Khan
"Four more years for Obama-a very good thing! Now let's focus on our election choices"
Madhur Bhandarkar
"He's back! @BarackObama is the 44th US President. The Democrats have done it again! Here's to 4 more yrs of some Obama charm!"
Lisa Ray
"Landed in Delhi to news of #Obama's Re-election. Good start to the day, back in my home country, with Diwali around the corner."
Anupam Kher
"Just landed back in Mumbai and came to know about Obama's win. It made me Happy. There is something Optimistic about him."
Fardeen Khan
"Obama is a true leader of our times. The world needs more like you Mr. President. Congratulations"
Shriya Saran
"Obama re-elected as US President, congratulations!Audacity of hope, one of my fav books."
Siddharth
"There you go. Looks like its in the bag…4 more years…of republican sulking. No harm done. Michelle Obama can cancel the U-Haul."
Rohit Roy
"What an inspiring speech by @BarackObama … Looks like he's more determined than ever b4 to turn things around for America.."
Shirish Kunder
"White moves first. Black wins. Nope this is not Chess. Its the White House results!"
"President Barack Obama to celebrate Diwali in White House this year."
Mahesh Bhupathi
"Well done Barack"
Kabir Khan
"Almost exactly 4 years ago to the day.. I had wrapped the shoot of 'New York' & Obama had won the elections… We had partied all night".