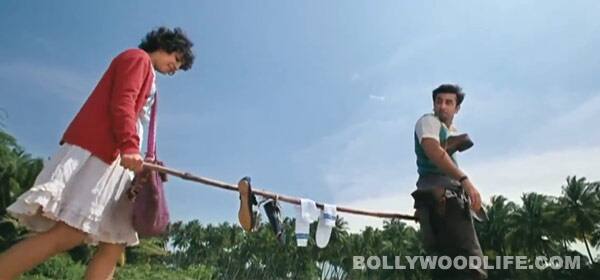 Music: Pritam Chakraborty
Lyrics: Swanand Kirkire, Aashish Pandit, Neelesh Misra
Singers: Mohit Chauhan, Arijit Singh, Shreya Ghosal, Swanand Kirkire, Sunidhi Chauhan, Papon, Rekha Bharadwaj
Rating: ****
As a fan of music, you are constantly on the look out for songs that will touch you. You wait patiently for that one song to come by and make your heart sing. I was looking forward to Barfi! because it showed promise. Except there was one hitch: the music was composed by Pritam Chakraborty.
Pritam has created some of the most popular and entertaining numbers in Bollywood today, but he is more famous for his 'inspirations'. You listen to any song he composes with some suspicion. But interestingly, once I started listening to the soundtrack of Barfi!, I forgot all about that. I got so hooked that I didn't care whether a song was copied or not. And I wondered, 'Is this really Pritam's music?'
So it all starts with Ala Barfi! – a total joy ride. The song transports you to the 60s (the film is set in the 70s!) instantly. It has two versions – one sung by Mohit Chauhan and the other by Swanand Kirkire. Mohit's version is smoother, breezier and easier on the ears, but Swanand's version has old world charm. The focus here is on the vocals and Swanand emulates Kishore Kumar's singing style – emphasising the key words and adding humour to his lines. He brings innocence and naughtiness to the track.
Words like Gupchup gupchup, bud bud bud, khus pus khus pus define the mischievousness Barfi's character. At the core of it, the number speaks about the spirit of a deaf and mute boy who has overcome his handicaps to lead a happy and meaningful life. The lyrics go: Radio on hua, mummy off hui, munna mute hi rota raha. The second half of the song is satirical, but is lightly packaged in this fun melody.
Ashiyaan starts with an accordion solo before the hand drums join in. Soon Shreya Ghosal starts singing 'Ittisi hasi, ittisi khushi…' The word 'Ittisi' sounds super cute, and Shreya makes it sound sweeter! And then Nikhil Paul George enters and starts singing: Dabe dabe pav se, aaye hole hole zindagi, hoton pe hum kundi chadhake, hum taale lagake, chal gumsum taraane chup ke chup ke gaye. There are other lines like 'Pyar ke sikko se maheene ka kharcha chalayein' that make you go awww. Enter violins and flutes, and this lilting song makes your day! The chorus singing 'aayi' in the background is just icing on the cake. It is an old world melody, characteristic of the music composed by Salil Chaudhary for films like Choti Si Baat.
Kyon, written by Neelesh Mishra, evokes nostalgia. The melody and lines like Timtimati nigahon me and tukur tukur yun dekhe kya remind you of the 50s and 60s Hindi film music that was simple, innocent and touching. Sunidhi Chauhan gets the chance to sing a classic number and she makes the most of it, with Papon's pleasing voice for company. "Nazar ke kankadao se khamoshiyon ki khidkiya yun todenge. Na harf kharch karna tum, na harf kharch hum karenge. Nazar ke sihayi se likhenge tujhe hazaar chithiyan" Neelesh uses brilliant metaphors to express the way two lovers communicate without saying a word. It's another winner in this soundtrack.
Main kya karoon sung by Nikhil Paul George and written by Aashish Pandit has a slight Cuban-Spanish touch to it. It's a simple song that will make you hum. The rawness of Nikhil's voice works for this light hearted song about young love.
Arijit Singh's silky smooth rendition of Saawali si raat makes you take a deep breath and feel the love in his voice. Credit goes to Pritam for making his vocals the hero and letting the tablas, guitars, pianos and saxophone play supporting characters. The poetry of Khwab ki razayi mein, raat ho teri meri is lovely. In a strange way, this is one of the most sensuous songs by a male singer!
A surprising composition also makes its way into this already versatile album – a ghazal. It does remind you of a couple of Vishal Bharadwaj's compositions from Omkara and 7 Khoon Maaf. Rendered by Rekha Bharadwaj, Phir le aya dil is refreshing. The way Rekha repeats the lines 'Vo do dabi si aas baki hai, wo jo dabi si aanch baki hai', you will exclaim, 'Wah! Wah!'. And she sounds perfect when she swoops through the harkats. There's also a Phir le aaya dil reprise sung by Arijit Singh. This one too has its own magic. Despite the use of traditional instruments like tabla and a straightforward ghazal style, the arrangement and treatment is a completely fresh.
The entire album is inherently melodious, and most songs have a 60s hangover, but the arrangements and use of instruments are contemporary, making the songs sound unique and appealing. Every is beautifully etched, and there is not one false note.
The lyrics are the real hero of this album, however. Swanand Kirkire (Neelesh Misra with Kyon is also noteworthy) lights up Pritam's music with original and magical writing – his lyrics are adorned by metaphors and imagery. As for Pritam, he has definitely reinvented himself with this soundtrack. In fact, he has outdone himself. Kudos to director Anurag Basu for making Pritam step out of his comfort zone!
The music of Barfi! is as sweet as its title and creates a beautiful world of music and poetry that is intrinsic to subject of the film. But its best quality is that it remains simple, innocent and honest, and that's exactly why it touches your soul. That's why it makes your heart sing.