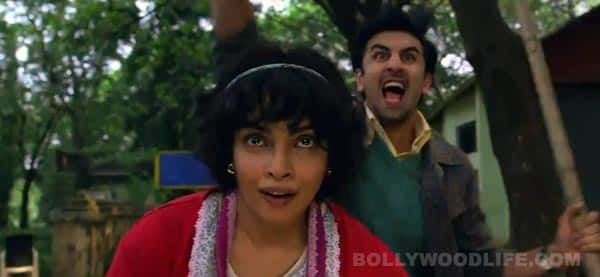 Anurag Basu's forthcoming film Barfi! has charming numbers that will sooth your nerves instantly. Here's yet another rendition from the Ranbir Kapoor-Priyanka Chopra-starrer that will melt your heart!
Watch Ranbir Kapoor and Priyanka Chopra fighting, travelling and having loads of fun in the new song titled Kyon from the film Barfi!. The duo brings out the child in you with their relentless pranks in this charming number. While Ranbir wins your heart with his range of impossible to mimic facial expressions, Priyanka impresses with her de-glam avatar. There's an undeniable and effortless chemistry between the two actors that stands out throughout this song.
Sung by singer Papon and the ever-so-versatile Sunidhi Chauhan, Kyon is very easy on the ears. Neelesh Misra keeps his lyrics amazingly simple yet intense. Pritam's music is highly commendable.
But the visual treat this song dishes out will have you absolutely fixated. It has inherent innocence and naughtiness that is very well portrayed by Ranbir and PeeCee, and more importantly, very beautifully captured by director Anurag Basu. We are confident Kyon will bring a wide smile to your face!