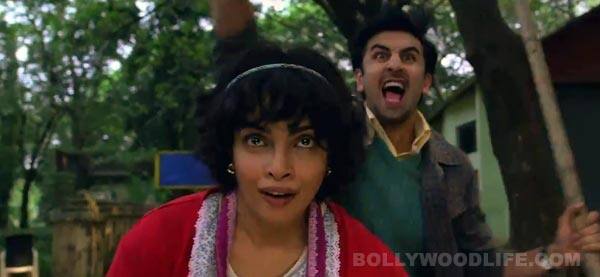 Cineswami reviews Ranbir Kapoor and Priyanka Chopra's film and thinks it's a lot like Mani Ratnam's Thiruda Thiruda
Cineswami has been observing the near universal tide of acclaim for Anurag Basu's Barfi! with quiet amusement. Yes, it's a great film no doubt, but the entire mass of reviewers across the globe have missed one critical part of the film, illiterate as they are in cinema. Call it homage, call it tribute, or call it a rip-off, but Barfi! owes a lot to the south Indian master Mani Ratnam.
Much of Barfi! is a long chase where Ranbir Kapoor is chased across hill and dale, street and railroad, rooftops and lanes by the cop Saurabh Shukla and his flunkey, sometimes on a bike with a sidecar. These scenarios are near-exact replicas of similar scenes in Ratnam's 1993 caper Thiruda Thiruda. There, the portly cop, played by the late singer and actor Malaysia Vasudevan and his flunkey chased a pair of petty thieves played by Prashanth and Anand across hill and dale, street and railroad, rooftops and lanes, sometimes on a bike with a sidecar. Even the locations looked similar and therefore Cineswami decided to stay for the end of Barfi!'s end credits and sure enough was rewarded with the information that part of the film was shot in the same Tamil Nadu locations where Thiruda Thiruda was filmed, though Basu's film is set in Bengal.
While on Ranbir, it must be noted that he has a fan in Kannada star Diganth. His Dev S/O Mudde Gowda was based on Wake Up Sid, in a forthcoming film he plays a Rockstar and guess what, another one of his forthcoming films is called, surprise surprise, Barfi!. Go figure.
Meanwhile, Barfi! producers UTV are facing a cumulative table loss of Rs 36 crore from Barfi! and Heroine. The satellite rights for both films were sold a couple of years ago to the Zee group with Rs 23 crore being agreed upon for Barfi! and Rs 13 crore for Heroine. However, the deal fell through at the last minute. UTV now hope to get a higher amount for the rights. Good luck.
After watching Student Of The Year, Cineswami was of the firm opinion that David Dhawan's son is milquetoast and the real performer, with young Amitabh Bachchan-like intensity is the boy with the non-filmi background – Siddharth Malhotra. Evidently, Balaji supremo Ekta Kapoor agrees. She has snapped up Malhotra for a two-film deal. Here's hoping to the rise of a bankable next-gen hero to take his rightful place in the new pantheon alongside Arjun Kapoor and Ranveer Singh.