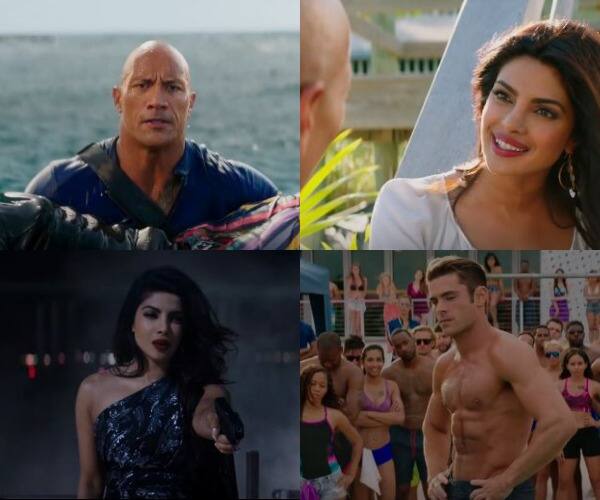 Dear Priyanka Chopra fans, remember the time when the first look of Baywatch was out, and it had the main leads in the movie sans Lady Pri, and  you were like, 'where's our PeeCee?' The makers obliged, and released a new poster that had Priyanka in it, that too prominently. Then do you remember the time when the first teaser trailer of the movie came out, just a month or so, and it had Priyanka Chopra for just a second, and you were like 'That's not fair, boss!' In fact, the furore over this was so much that Dwayne Johnson had to send out a tweet, asking us to be more patient and he had plans about marketing her part in the movie in the right way.
If you had been disappointed with her lack of screentime like any of us in the first trailer, the makers have finally listened to your prayers and have released a new trailer, that has enough Priyanka Chopra in it to appease the fan boy/girl in you. She may not be dominating the trailer per se, it is after all Dwayne Johnson and Zac Efron's movie, and Priyanka Chopra is playing the main antagonist of Victoria Leeds, an evil corporate magnate who is out to destroy the beach The Rock's lifeguards are saving.
When we first see Victoria Leeds, she sounds pleasant and looks alluring, but you know there is something mean about her. And you guessed it right, as she is shown pointing a gun at perhaps one of the heroes later in the trailer. Then there is also the shot of her walking down the hotel corridor that was there in the first teaser as well.
We have to say Priyanka Chopra had already played the sultry antagonist to perfection before in Aitraaz, and here as well, she nails it right again.  However, apart from Priyanka's extended appearance, the rest of the trailer has still not managed to give out the wow factor that we have seen in reboots like 21 Jump Street. Perhaps, the final product has more comedic value.
Here's the trailer…
So PeeCee fans, are you happy with what the new trailer has in offer for you?