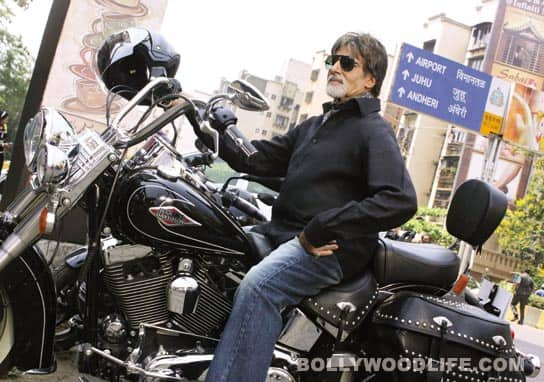 Bbuddah Hoga Terra Baap is total timepass, with enough laughs, emotion and action to keep anyone who has watched even one Amitabh movie laughing
When you are parodying your own movies, two things can happen: your audience laughs with you, or at you. In the case of the Deols and Yamla Pagla Deewana, they managed the first. In the case of Amitabh Bachchan and Puri Jagannadh… well, yes! They have done it too. The role of a flashy, in your face, edgier Sexy Sam requires a delicate balancing act, to prevent it from falling into the quagmire that Mrityudaata and Lal Badshah did. Sr Bachchan was fantastic the first time around in Kabhi Alvida Naa Kehna, and he is even better in this one.
A much-needed change from the genial patriarch of Baabul and Baghban, Viju is, hold your breath, a sharpshooter. Of course, this also means Viju (a tribute to his innumerable Vijays?) doesn't have to literally kick to kick ass, he can simply sit in a chair and shoot a bottle standing far away, just to impress the baddies. He is after all not an angry 'young' man any more. So Viju – "a founding member of the Mumbai mafia", as he calls himself – returns to Mumbai after spending several decades running a pub in Paris. Why? 'Cause Kabir (Prakash Raj) wants a sharpshooter with no police record to hunt down ACP Karan Malhotra (Sonu Sood). The first thing Viju does on his return is to spout his famous line, "Hum jahan khade hote hain, line wahin se shuru hoti hai." Fortunately though, such lines are kept to the minimum. It would have been better if that had been the case with the songs. While Haal-e-dil soothes, the medley Go Meera jars with the rest of the film, and you get the feel it was added in for no reason. Facing off several times with Viju is Karan, and Sonu Sood is really brilliant as the honest, lovestruck cop. He holds his own even against the Big B and that is quite a formidable achievement.
You may wonder why we have not mentioned the ladies yet. There are four of them, after all – Hema Malini, Raveena Tandon, Sonal Chauhan and Charmme Kaur. However, none of them have anything to do. Not even Hema. If you expect the kind of chemistry Amitabh and Hema had in Baghban, then don't go for this one. The two share screen space in very few scenes. Raveena goes over-the-top, unnecessarily gushing over her Viju, and even singing Mera piya ghar aaaya when he comes. And she just doesn't look like the screechy Charmme's mother, more like her elder sister. Sonal has to first glare at Sonu, and later smile at him. That's the extent of her expressions. The script just doesn't give her or any of the ladies any scope at all. It is unabashedly a vehicle designed solely to portray the angry man and everyone else falls easily by the wayside.
Bbuddah… has everything – emotion, romance, drama, comedy, action. An open ending to make it easier for a sequel. And a longer version of Sexy Sam. To top it all, a twist too, just before the interval – twisty enough to keep you in your seats even during the break. But, much to our surprise, it doesn't have Chandigarh di star, and the Saara zamana song by Shiamak Davar. Otherwise, it's a total timepass movie worth your money. Don't go in expecting a Deewaar or a Zanjeer and you will come out laughing.