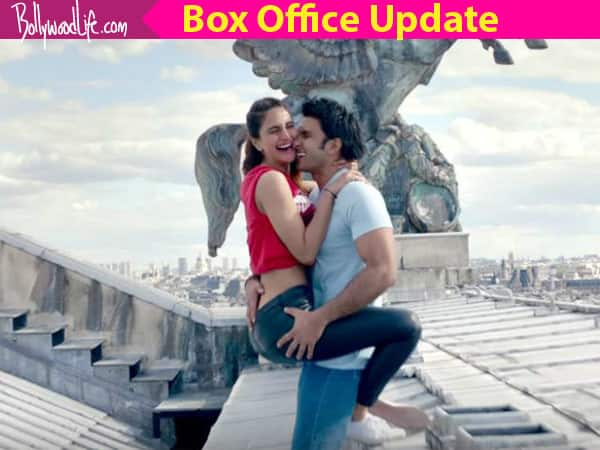 Aditya Chopra directed Befikre starring Ranveer Singh has finally crossed the Rs 50 crore mark at the domestic box office. The film earned a meagre Rs 1.68 crore on the eighth day of its release. Taran Adarsh shared the day eight figures of the film saying, "#Befikre crosses ₹ 50 cr mark… [Week 2] Fri 1.68 cr. Total: ₹ 50.43 cr. India biz." The film opened to good occupancy but since its fourth day, has been seeing a dip in collections with each passing day. Also, the day 8 collections are low considering there wasn't any competition as such with only Wajah Tum Ho releasing, which didn't see much of a buzz surrounding its release. The day 9 collections are bound to see some growth as the new release hasn't shown much of a hold at the box office. The film will have a clear run at the box office till December 23, as that's when Aamir Khan's Dangal hits the big screen, which is sure to earn big money at the box office worldwide.
Check out the tweet below:
#Befikre crosses ₹ 50 cr mark… [Week 2] Fri 1.68 cr. Total: ₹ 50.43 cr. India biz.

— taran adarsh (@taran_adarsh) December 17, 2016
Released on December 9, Befikre stars Ranveer Singh, Vaani Kapoor and is directed by one of the India's biggest filmmaker Aditya Chopra, who made his comeback with eight years after his last release and with this film he also worked with someone other than Shah Rukh Khan for the first time in his twenty years long career as a directed. Also read: Ranveer Singh: I have been watching Befikre in theatres with audiences since the release
Upon its release, the film recieved mixed reviews from the critics, BollywoodLife in it's review stated, "Befikre might have its flaws, but it still deserves your time thanks to a breezy narrative and fantastic performances by Ranveer and Vaani. Expect something on the lines of DDLJ and you will be disappointed. However, if you have a thing for entertaining romcoms, then Befikre can be that fun date movie for you."
Keep following BollywoodLife for more updates about the box office of Befikre and more.

What is Befikre all about?

The trailers have already hinted at this, but if you are ignorant enough to venture into a theatre screening Befikre and expected something on the lines of DDLJ and Rab Me Bana Di Jodi, you are bound to get shocked. Director Aditya Chopra has just changed lanes and he is cruising into the fast lane with this romcom starring one of the best actors in B-town, Ranveer Singh and Vaani Kapoor, who finally gets her second Hindi movie after Shuddh Desi Romance.

Image credit: Google

What is Ranveer Singh and Vaani Kapoor's character in Befikre?

Befikre gets into the drive with a breakup actually, of Dharam (Ranveer Singh) and Shyra (Vaani Kapoor). An year ago, Dharam, a stand-up comedian from Delhi with an overworked libido, lands in Paris to work in his friend's club (interestingly called Delhi Belly). While trying to hookup with random girls at a club, he meets Shyra, who in her words is a French girl born to Indian parents.

Image credit: Google

Befikre is full of series of French kissing, makeout sessions and dares between Ranveer Singh and Vaani Kapoor

Needless to say they hook up after a song, thus starts a series of French kissing, makeout sessions and dares, on which their relationship is built. However, within a year, their patience runs out with their relationship and they break up. Now on their separate ways, they find it easy to move on but still end up being good friends.

Image credit: Google

Ranveer Singh and Vaani Kapoor – Friends with benefits?

But like a dialogue in a Yash Raj film itself, can a boy and girl stay friends especially considering their torrid past? That's what Befikre is all about.

Image credit: Google

Aditya Chopra's attempt at rom – com with Befikre is successful

Though many old school romance purists who have grown up watching DDLJ may not appreciate what Adi does here, I for one, am quite okay with him changing his tracks and make a romcom with modern sensibilities. Befikre could be Aditya Chopra's breeziest movie ever. The film is replete with light moments, mostly in the first half, and has a tone of a typical Hollywood romcom.

Image credit: Google

What's Hot about Befikre?

Even though the pace slackens in the second half, his tight direction holds things together. The dialogues are witty and chuckleworthy at most times, especially those written for Ranveer. And the casting of the leads is impeccable. We have seen Ranveer last in a historical movie, and his upcoming film is a period movie as well. So it's great to see him play his age in a modern day romance. We have started seeing from his debut Band Baaja Baaraat, but no one can nail the Delhi boy act as brilliantly as he does.

Image credit: Google

Befikre is Ranveer Singh's movie throughout

He is screamingly hilarious in the scenes where he compares Paris' monuments to Delhi's, or when he mimics the actor after whom he is names or in the karaoke bar scene. But his one longing gaze after Shyra tells him that she is accepting a marriage proposal knocked it out of the park for me. And yes, the ladies also get to see butt in a flash (Speaking of which, the Censors have been quite liberal with Befikre, considering it got away with a U/A despite the numerous kissing, nude and stripping scenes).

Image credit: Google

Vaani Kapoor's struggle to match up with Ranveer Singh's energy is visible

Vaani Kapoor struggles to match up with Ranveer Singh's infectious energy in the initial portions, but as the movie progresses, her performance gains more confidence. She scored more in the dramatic portions, and my god, her French and dancing are FAB!

Image credit: Google

What's Not about Befikre ?

While I appreciate that Aditya Chopra wanted to make a hatke movie, I believe at some point he didn't how to give Dharam and Shyra's friendship a proper conclusion. So thus the movie falls into the usual trap of clichés in the second half, filled with secondary lovers who are disposable at the right, a healthy BFF and getting in touch with your 'Indian' values at the right moment. After a breezy first half that's so different from the usual Hindi movies, we expected Aditya Chopra to take a path less travelled in the second half. Instead, these positions are a potpourri of ideas taken from movies like Love Aaj Kal, Jaane Tu Ya Jaane Na, and even their own brand movie, Band Baaja Baaraat.

Image credit: Google

Is Ranveer Singh and Vaani Kapoor's Befikre worth your money?

Befikre might have its flaws, but it still deserves your time thanks to a breezy narrative and fantastic performances by Ranveer and Vaani. Expect something on the lines of DDLJ and you will be disappointed. However, if you have a thing for entertaining romcoms, then Befikre can be that fun date movie for you.

Image credit: Google