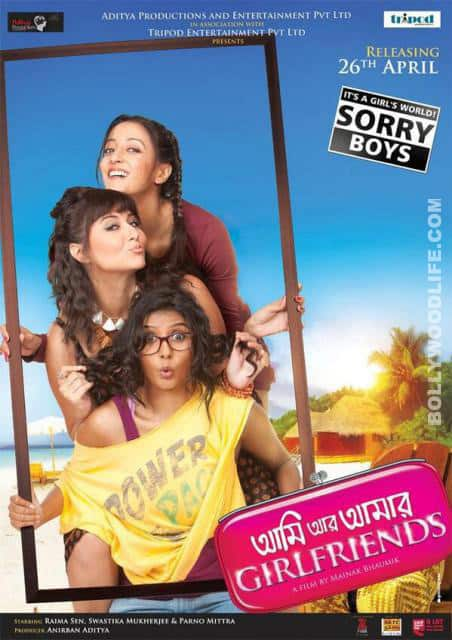 skip advertisement
Mainak Bhaumik's film stars  Raima Sen, Swastika Mukherjee and Parno Mitra
It is not often that we get to watch movies about women bonding in Indian cinema and now that one is imminent, the male gaze afflicts it. We are, of course, referring to the Bengali film Ami Aar Amar Girlfriends (Me and My Girlfriends), directed by Mainak Bhaumik that is due to release on April 26.
The film stars Raima Sen, Swastika Mukherjee and Parno Mitra. Raima plays a writer while the other two are a counsellor and a radio jockey respectively. The three besties go off on a life affirming road trip. If all this sounds like an Oestrogen-fuelled version of Zindagi Na Milegi Dobara or Dil Chahta Hai, it is.
Bhaumik agrees. "There have been stories of friendship of men being brought up on screen, but this is the first film to look into the friendship of three women. It is an extension of my world, and very biographical," he says. Despite being aware of the fate that befalls cats, we were curious to know what Bhaumik's world looks like and so we took a gander at the trailer.
It is clear that Bhaumik's world is that of male fantasy, for the trailer has the camera lovingly caress the three leading ladies as they, clad in swimwear, frolic in the sea off a sylvan beach, taking turns to dunk each other in the brine and pausing only to quaff pints of beer. In case the titillation wasn't enough, Bhaumik also has the ladies run up and down the beach a few times, in slow motion of course, displaying considerable ahem, bounce shall we say?
Of course, the reason for choosing to highlight only this segment of the film could be the director's desire to depict his female characters' unfettered freedom, but perhaps a shrewd eye on a salivating male audience was also in the thought process.
All this is not to imply that Ami Aar Amar Girlfriends will be a trashy film. Far from it, if Bhaumik's track record is anything to go by. His debut, Bedroom, took the audience into that most intimate of spaces, next only to a privy, and received some critical acclaim. His next film Maach Mishti & More (Fish Sweets and More) that released earlier this year is an absolute delight. An ode to Calcutta and homage to Woody Allen, the pleasurable rom-com followed the disparate lives of members of a large joint family and was a box office success.
It is therefore with great anticipation that we await Ami Aar Amar Girlfriends, and temporarily forgive Bhaumik his obsession with jounce.
SEE STILLS: Ami Aar Amar Girlfriends