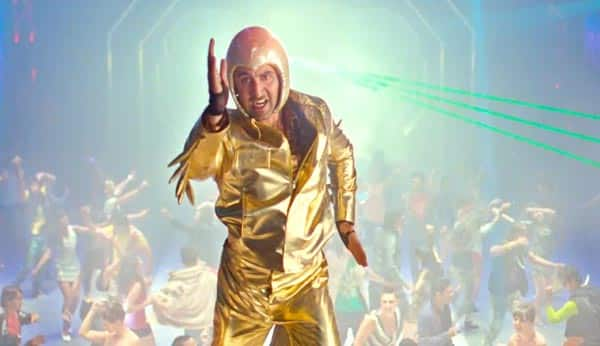 Watch the talented Kapoor lad grooving to the beats of an average disco number that has disappointed us hugely. See it to believe Ranbir going on a copying spree!
We are not too impressed with Ranbir Kapoor's antics in Pyaar ki ghanti song from his upcoming movie Besharam. Though the number has a quintessential retro feel to it, the composition is not as remarkable as expected. After this one, the 30-year-old actor is out with second number- essentially the title track of the movie-that looks incredibly average.
Here's Ranbir shaking his shiny booty (thanks to his bling costumes) and doing some pelvic thrusts as the lyrics go Main nangaa hua to kaahe kii..kaahe kii sharam.. Be is for Be-imaan Sha is for Shaitaan Ram ji ke cheete hum.. Besharam. Composed by Lalit Pandit of the Jatin-Lalit duo, the song sung by Shree D and popular rapper Ishq Bector doesn't have anything that can set your foot tapping to. Also, Himanshu Kishan Mehra's lyrics are equally thanda.
Now after copying Shahrukh Khan and Salman Khan, the talented Ranboo is on an aping spree it seems. And this time, even Amitabh Bachchan, Mithunda or for that matter even Bappida are not spared! Take a look at this number and tell us if you really impressed with what you see here!