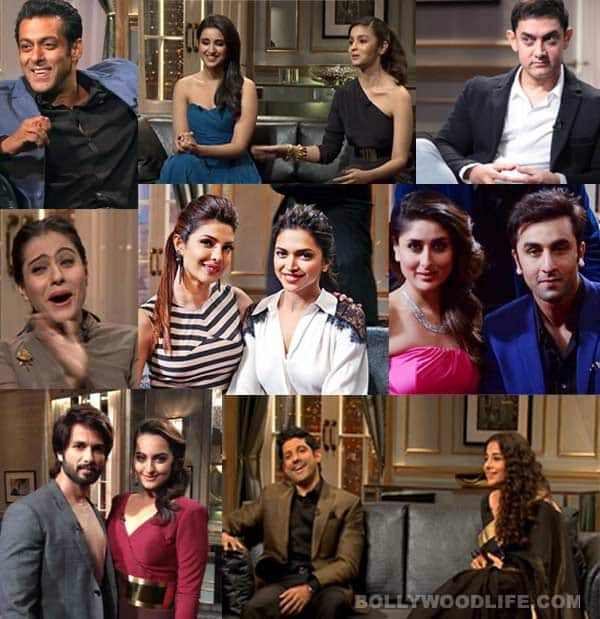 Karan Johar concluded the fourth season of his chat show and he compiled the best moments of the season for the finale episode. To those who missed out on watching all episodes, this one will make up for it. Watch and tell us what you think
Emraan Hashmi wants Abhishek Bachchan and Saif Ali Khan's wives. Shahid Kapoor wants to kill ex-flame Priyanka Chopra and hookup with Nargis Fakhri. Alia Bhatt and Anushka Sharma flaunt their dumbness about Indian politics. While Kareena Kapoor Khan wouldn't mind a gay encounter with Katrina Kaif and Priyanka Chopra wouldn't mind one with Deepika Padukone, Zoya Akhtar would like one with Queen actor Kangana Ranaut. While everyone declares Ranbir Kapoor as the biggest gossip monger, RK himself comes forth as quite boring and diplomatic as he appears on the controversial couch. Looks like he is just putting up a dumb face, hai na? While Karan Johar didn't get anyone to judge the best moments of this season, he himself has categorised them. Well, the finale episode of Koffee with Karan 4 is certainly entertaining and here's what it is about…
The special thing about this season of Koffee with Karan 4 according to KJo is that, he managed to get those celebs who resisted his charm till now but couldn't any longer to make their debut on his show and he calls them Koffee virgins. Ahem! So why did Salman Khan avoid coming on the show? Well, Dabangg Khan didn't want to answer question about his marriage. Really? Aamir Khan on the other hand told Karan, "I didn't know you well when you started the show. Whatever little I knew about you, I didn't like." That's honest.
Anyways, here are the categories that Karan showcased in the finale episode.
Couch of denial: All celebs deny their relationship with co-stars. On being asked if she is dating Uday Chopra, Nargis said, "Am I?" Ranveer Singh said, "I share a good and healthy relationship with Deepika." Deepika on the other hand said, "I am not dating any of my co-stars." Anushka too denied her relationship with Virat Kohli. Well, looks like every alleged couple in B-town are 'just friends' who go on romantic vacations together. Sigh!
Headline grabbing and talked about moments of the show: Deepika Padukone had Karan choking when she said, "I have been friendly with Anushka." Shahid Kapoor who is allegedly dating Sonakshi Sinha said, "I don't like skinny women. Women are much hotter when they are naturally voluptuous." Since when, we wonder! As far as we know, his alleged ex, Vidya Balan had spoken about a certain ex who criticised her for her curves. Liar! Kareena said to Ranbir, "At your wedding I am going to do a solo dance on Chikni chameli and Sheela ki jawaani." She even added that her outfit is ready. What more, she said she will shake a leg to Katrina specific songs only. Of course, we know how much trouble the poor big mouth got into after this and how pissed uncle Rishi Kapoor was with her. The most entertaining though was Salman's statement, "Technically I have never broken up with anybody coz I have never had a girlfriend. I want to save myself for the one I am going to marry. I am a virgin." Well, well. Of course, our entire B-town would be claiming to be virgin post this remark. Wink, wink!
Anecdotes, stories from the source's mouth: Ranveer recalled working in a coffee shop abroad and being quite a player. Ranbir Kapoor told a tale about cousin Kareena jumping into a 'nala' as she thought it was a swimming pool. LOL! What more, RK also revealed that he used to alternate as his sister and Kareena's husband while playing 'house house' as kids, and that he is still disturbed by the thought. Zoya Akhtar spoke about Kareena as a very funny person and told a funny tale too.
Beneath the sheets/Steaming Koffee: When Karan asked Priyanka and Deepika if they have had lesbian encounters, the question quite backfired and the girls made poor KJo nervous. But when he asked Ranveer how he would react if a male co-star hit on him, the young lad told Arjun to tell him how he reacted. Arjun said, "He takes off his pants." The Gunday boys are really naughty, we must say! And while Vidya Balan was talking about tall and thick books, the conversation got quite dirty!
Rapid and full of fire answers: On being asked if Ranveer is a better actor than Ranbir Kapoor, Deepika said, "I know who is a better actor but I don't necessarily want to say it." When asked to react with one word to the following, when Karan said Ibiza, Ranbir said, "Profits from Ibiza tourism should be shared a bit with me." As for Mahesh Bhatt, he declared Barfi! as the most overrated film and Sanjay Leela Bhansali as the most overrated director. And on being asked one person who should never think of dating Alia, Bhatt said, "No one should think of dating Alia." Nargis Fakhri, Anushka Sharma and Anurag Kashyap feel that Ranbir Kapoor is the biggest gossip queen. Based on titles, Abhishek Bachchan would cast Ranveer Singh and Deepika Padukone in Friends with Benefits. While Emraan Hashmi wants to steal Abhishek Bachchan and Saif Ali Khan's wives, from Shahrukh Khan, he wants to steal his house. But while Emmi wants to steal Abhi's wife, he also says that she is plastic. If Anurag Kashyap was to wake up as Salman Khan, he says he would lose his virginity. Freida Pinto's matrimonial ad for herself would say, "Willing to marry anybody who is not looking for a fair, light-eyed virgin." If Sidharth Malhotra was to find Sunny Leone in his bed on waking up, he would like to have breakfast sunny side-up. Ahem ahem! Vidya Balan wants men to know, "Women like it, need it and want it as much as they do." As far as gay encounters at gunpoint are concerned, Priyanka chose Deepika, Farah chose Sunny Leone, Arjun confessed he has had a man crush on Hrithik Roshan since Dhoom:2 and Kareena Kapoor Khan would prefer it with her sister-in-law, Katrina Kaif.
Rapid fire reversed: Karan Johar's rapid fire round reversed with a few celebs. For instance, Akshay Kumar had prepared a tough questionnaire for KJo and had the latter dumbfounded, for once! When Salman Khan was asked, at gun point if he was to have a gay encounter with, who'd he choose, Sallu said, "Aisi koi gun bani hi nahi. But to make you feel good, you, Karan. But I am the guy." Salman had poor Karan blushing so much! Abhishek Bachchan reverted with, 'you' when he was asked the biggest gossipmonger by Karan. When KJo asked who would you cast in the following Hollywood remake, 40 year old virgin, Juhi Chawla said, "Sitting in front of me." Karan was quite taken aback on being called a virgin!
Koffee quiz: This round wasn't supposed to be a part of the season but it was received quite well and was introduced in all episodes. In this round, Varun Dhawan declared Manmohan Singh as the President of India and Alia Bhatt declared Prithviraj Chavan as the President. Anushka Sharma said Ashok Chavan is the Chief Minister of Maharashtra. Some figment of imagination. Nargis cornered Karan in the 'Who am I?' round by not letting the host speak. Sonam Kapoor had a blonde moment too. But somehow, Sonam's entire episode was full of blonde moments.
Well, the best of Koffee with Season 4 aired yesterday was a fun-filled episode. If we were to choose, who was the most entertaining of them all, we'd be as confused as you. Each celeb had their fun, dumb, blonde moments on the show, which put together were quite enjoyable. So BollywoodLifers, you too watch the episode and tell us which part or comment you enjoyed the most!