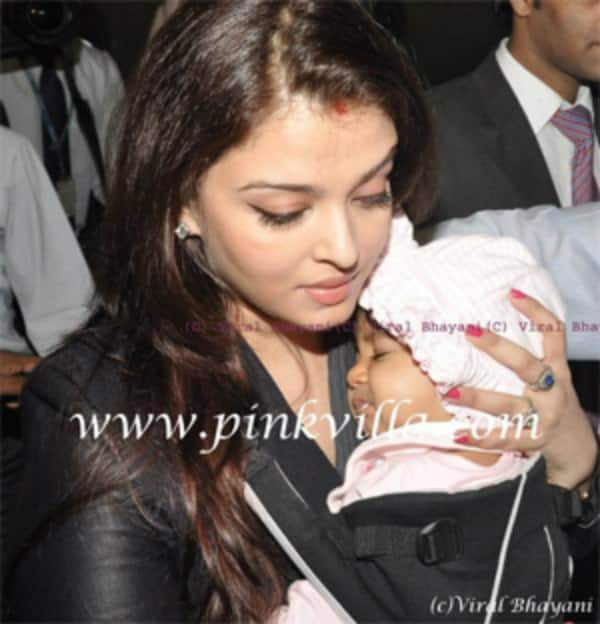 We managed to steal a sneak peek of the baby that has B-town and its fans all astir. And she looks so like her Daddy!
For some time now Abhishek Bachchan has been shooting away from home. He is now based in Chicago, doing his cop-thing for Dhoom 3, with Aamir Khan, Uday Chopra, Katrina Kaif and the happy gang of the latest version of the high-energy franchise. But all along he has been missing his girls, we are told – the little one especially, Beti B, Aaradhya Bachchan. Aishwarya Rai Bachchan, as dutiful wife, mother and bahu (daughter-in-law), has been juggling duties all the while, handling home and child, slowly sliding back into some kind of work routine, getting into shape for a public life, and more. And we also heard that she and her baby girl would be joining Papa B in Chicago, with Senior Bs Jaya and Amitabh Bachchan meeting up with them later on.
And a couple of days ago Ash and Beti B left for Chicago. They will be flying to the Windy City after a brief stop in New York, where Ash has some professional commitments, it is said, and will soon be with Abhishek and become a happy little family once more. We managed to get a sneak peek of the mum-baby pair at the airport in Mumbai and were charmed. Though Ash tried hard to hide her daughter's face and we tried – but not equally hard – to not intrude, even though we were dying to get a good look at the infant to see what she looks like, the baby did get caught by one smart camera eye. And she is a sweetie! Aaradhya was rather crabby – wouldn't you be, with flashbulbs going off in your face and media people pushing and shoving to get your attention? – and very very sleepy, her eyes screwed shut and her little rosebud mouth all pursed and sulky. But what we must tell you is that this child looks so much like her father! And, of course, she is a long baby, who will be tall when she grows up, we are sure. Her granny Jaya confirmed this, remember?
This is going to be one fun family reunion, we know. And who knows, what with Azad Rao Khan and all the other wee ones around the sets, it could become a wild and wonderful baccha party! Do we get invited, Abhi-Ash?
Photo: Pinkvilla / Viral Bhayani / Zeenews.india.com