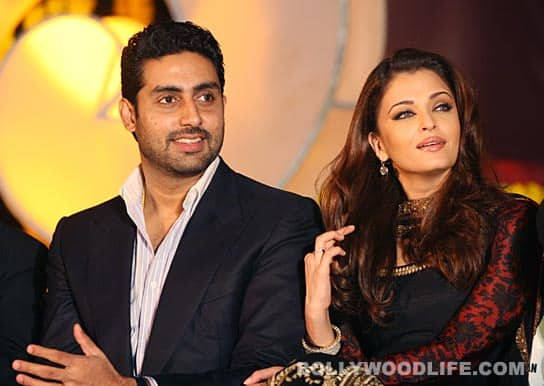 Actor? Model? Or something else altogether? What can Abhishek and Aishwarya Bachchan's darling daughter choose to become?
We think the best thing that new parents Abhishek Bachchan and wifey Aishwarya Rai Bachchan's baby girl can do for herself is not become an actor. Yes, with parents and grandparents in the field, she'll just be compared to them and have to work really hard to get a chance to prove herself at her own pace and for her own abilities. Abhishek has been dealing with that burden for years now, usually not with any degree of success. For the same reasons, she'll do better if she doesn't become a model either, since living up to her mum's rep will take some doing. So what can she do with her life, careerwise, we mean? Here are our suggestions:
Pilot: The furthest that Beti B can get away from her family's fame is to the skies. Maybe she can be a pioneer in aviation, like her family is in B-town. And even operate a private jet service that all her friends would love to fly in.
Engineer/Doctor: Two scientific professions that are as far away from acting as she could possibly get. No worry about comparisons here.
PR Consultant: If there is any B-towner born knowing how to handle the media, it is definitely Beti B. So who better than her to teach other Bollywood celebrities how to do so?
Interior designer: Most of the women in Bollywood who are not actors, design for a living – be it houses, clothes or jewellery. Beti B can join that clique and take tips from aunties Sussanne Roshan and Twinkle Khanna on how to go about it.
Teacher: The Bachchans may not talk about it too much, but it is common knowledge that they are involved in several charitable activities, including funding education and setting up schools. Amitabh is also the UN Ambassador for the girl child. Beti B could spread the word in places where formal government missions are unable to do so.
I&B Minister: The Ministry has never got as much publicity as it did during the week that she was born. By becoming a part of the department, this girl-child can issue more directives about how to cover other events related to Bollywood personalities.
Novelist: With all the goings on in Bollywood, just one year can give Beti B enough material to write books for the rest of her life. Wouldn't it be great if an insider actually wrote a wacky, comic account of the inner workings of the industry? With grandma Jaya's father and grandpa Amitabh's too having been famous writers, the young 'un will surely have some writing skill in her!
Journalist: There is hardly any aspect of her birth that has not found its way into newsprint. Her coming years will be chronicled in even more detail. So it is almost natural for her to be interested in the life of a reporter, right? And maybe then she'll be able to convince her grandpa that everyone from that profession is not a baddie.
Director: If she can't keep away from B-town, she could stay behind the camera. She will definitely have a good sense of script and eye for detail, with four actors guiding her formative years. That's something we would love to see.