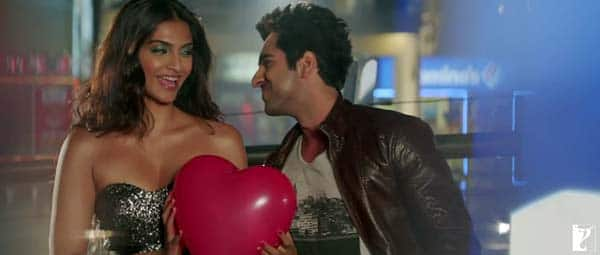 In the concluding part of the making series of Bewakoofiyan, director Nupur Asthana calls her venture a delectable dessert treat
The word Bewakoofiyaan literally means stupidities in English, but Rishi Kapoor who has a meaty role in Nupur Asthana's slice of life movie believes that one shouldn't judge the movie by its quirky title. "Picture ka naam sirf Bewakoofiyaan hain asal mein yeh film kaafi intelligent movie hain, kaafi hoshariyaan hain is mein," said the veteran actor who will be seen portraying a khadoos father of Sonam Kapoor's character in the film.
But ask director Nupur Asthana to define her movie in one word and she calls it a blueberry cheesecake. "The film looks very soft on the outside but it has a thin crust (perhaps to refer to a solid plot) deep inside. It's not too mushy, not much sugary but it will have its flavours of subtexts," explains Asthana.
Watch this video to know how the music for this flick was composed and what one can expect from the relentless bewakoofiyaan unleashed by the fun trio of the movie!