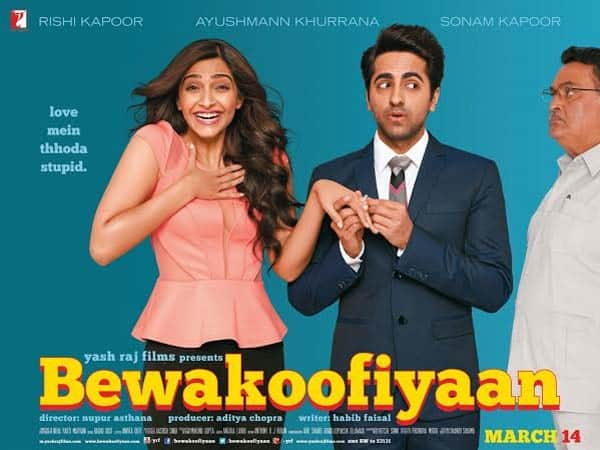 Nupur Asthana's romcom Bewakoofiyaan has hit the theatres. Well, unless you are sucker for love stories, you may not enjoy this one. But if you swear by romcoms, you will like this predictable yet cute movie
Bewakoofiyaan directed by Nupur Ashthana and written by Habib Faisal has Ayushmann Khurrana and Sonam Kapoor as the lead pair and Rishi Kapoor as the latter's father. The entire movie revolves around these three characters and we get to see how each of them differs from the other. Bewakoofiyaan is set against the backdrop of recession but it's not the kind which will keep you sulking at the plight of those who have lost their jobs. The entertainment quotient of the film is average and it's a film that you can watch with anyone, friends, family or spouses…
By now, we're sure everyone knows the plot of Bewakoofiyan. But here's repeating ourselves. Ayushmann Khurrana plays Mohit Chadhdha who is in love with Sonam Kapoor who plays Mayera Sehgal. The duo is in love, not the lusty kind so if you expect explicit scenes, this movie's not for you. There's rosy romance between Sonam and Ayushmann. And everything's fine till they decide to take their relationship further. That's when, enters Rishi Kapoor (VK Sehgal), who plays SK's dad. Daddy dearest Kapoor is overly protective and possessive of his daughter. And just when Rishi Kapoor is getting to know Ayushmann as Sonam's boyfriend, the latter is sacked due to recession.
At the start of the movie, Khurrana is the cool dude who doesn't mind the fact that his girlfriend earns more than him. But after losing his job, going bankrupt and borrowing money from SK, he starts getting irritable. Problems begin to surface in the hearts and flowers relationship between the lead pair. Meanwhile, Rishi and Khurrana bond together. Well, the film is predictable but that does not make it boring. Rishi Kapoor's sarcasm will keep you entertained.
Performance-wise, Ayushmann is no Shahrukh Khan or Salman Khan. His character and story's plot in Bewakoofiyaan is different from his previous film but his heavy Punjabi-accented Hindi and acting is quite the same (we aren't complaining). But he's cute! Especially when he flashes his dimples. Sonam on the other hand is her usual self. Off-screen or onscreen, this girl is brand crazy and shopaholic. Her character in Bewakoofiyaan is not as shopaholic as the one in Aisha, but all the same, she has an enviable closet. As for her acting? Has this babe ever proven her acting prowess? But maybe that's what works in her favour. Her girl-next-door looks and high maintenance lifestyle playing daddy's lil girl is nothing different from the Sonam Kapoor in real life. Rishi Kapoor as the jumpy old man, who Khurrana refers to as Osama (in the film) is convincing as a protective dad. Overall, the film's plot, predictable as it might be, is better than the actors' performances. Bewakoofiyaan's music is not all that bad. It could be 'coz it blends with the film's scenes. And as for the bikini scene, wethinks that it was totally unnecessary and not-so-hot! It's likely that the filmmakers used it only for the promotions of their film.
Our verdict: Bewakoofiyaan is only for the incurable romantics, who wanna watch happily ever afters. To those who are seeking some action, thrill or sex-comedy, this one's not for you. While the new generation is likely to enjoy this movie more, Sonam Kapoor and Ayushmann Khurrana's Bewakoofiyaan can be watched by anyone with anyone. It's a long weekend and if you have no plans, you can buy a tub of popcorn and watch Bewakoofiyaan.
Rating:
out of 5
Reviewed by Bhagyashr​i Pawar
* Poor
** Average
*** Good
**** Very good
***** Excellent