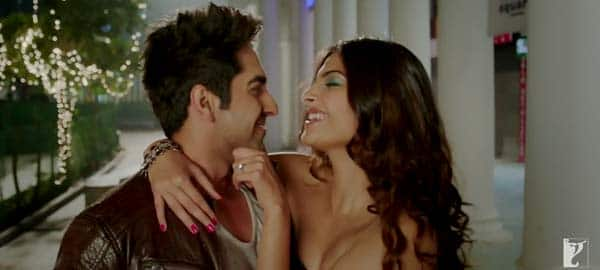 Music: Raghu Dixit
Lyrics: Anvita Dutt Guptan
Singers: Aditi Singh Sharma, Benny Dayal, Ayushmann Khurrana, Neeti Mohan, Shreya Ghoshal, Mohit Chauhan, Vishal Dadlani and Raghu Dixit
Bewakoofiyaan, starring Ayushmann Khurrana, Rishi Kapoor and Sonam Kapoor, has been directed by Napur Asthana. The film promises to be a funny entertainer based on a father's disapproval of his daughter's boyfriend. Checking the track record of the musicians the music of this film should be fresh and new. So has the music impressed us or let us down? Find out in the song by song music review
Gulcharrey: Sung by Aditi Singh Sharma and Benny Dayal this song is nothing more than average. The song is laden with techno beats throughout but still it doesn't have that peppy catch to it. This song doesn't have the lasting impact on the listener. The singing is commendable although and the overall song could have been way better.
Khamakhaan: Sung by Ayushmann Khurrana and Neeti Mohan this song is once again upbeat but not up to the mark. The composition is not that great and seems to remind you of Sandeep Chowta's Mast title track. Ayushman's vocals come a bit late in the song, which is again another let down. Another upbeat number which is very weak in its appeal. The composition is a lil messy and seems to lack proper music arrangement.
Bewakoofiyaan: Crooned by Raghu Dixit, this song is better than the others. The western flavor to the song has been well brought about by the use of electric guitar and drums. The Indian part mid-way in the song is good and helps give the song a blend of east and west together. The vocals are strong and add a lot of energy to the song. This song is a keeper and would be there in your music players for some time.
Rumaani Sa: Though this number by Shreya Ghoshal and Mohit Chauhan is descent but it isn't as good as their last collaboration Saans for Jab Tak Hai Jaan. This is another likeable song in the album and it is mostly because of the vocals. This is an unconventional romantic track and would definitely make you want to stand up and dance with your partner.
Aye Jigida: Sung by Vishal Dadlani this track is not at all as good as it should have been. The song doesn't do justice at all to his singing capabilities. The song is a big letdown as many people might just listen to this song thinking it to be a Vishal Dadlani song, but sadly it is nothing that great.
O Heeriye: Sung by Ayushmann Khurrana this is the same Punjabi number which was released last year as a solo single by the actor. This song had an instant likeable feel to it when it was released and even now you would want to fall in love with it all over again. The lyrics are fantastic and Ayushmann's vocals have been so well blended that it is undoubtedly one of the best songs by the Paani da rang singer!
Verdict: Bewakoofiyaan could have been a far better album considering the cumulative talents of all the singers and musicians. But sadly the album is weak and unfulfilling. Many songs are lackluster and would die off just as soon as the film releases. The compositions are weak and not catchy. An album which can be given a pass but still if you want to listen to our picks are Rumaani Sa, Bewakoofiyaan title track and O Heeriye.
Rating:
out of 5
Reviewed by Prateek Sur
* Poor
** Average
*** Good
**** Very good
***** Excellent