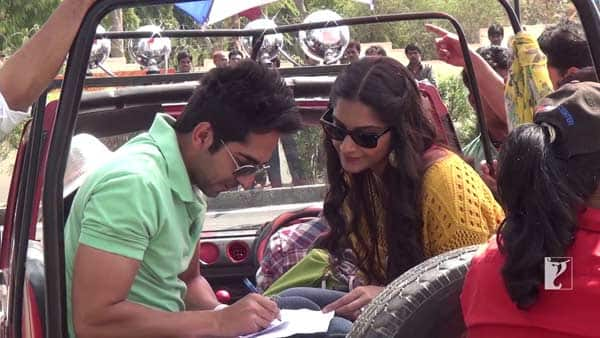 After Sonam Kapoor's candid confession about her Bewakoofiyaan co-star, the dude went on to call himself the black sheep of his family. Read on to know what Ayushmann Khurrana has kept away from his fans
Ayushmann Khurrana and Sonam Kapoor look super-cool together in Bewakoofiyaan. The duo is young, peppy and absolutely isshmart looking. We also like the positive vibe they share with each other in the movie. Watch two having a ball while shooting Gulcharrey number for the movie. While the Vicky Donor dude is yet again is his charming best, Sonam is looking refreshingly hot with her style quotient. And here's a sneak peek of the number that will give you enough dose of behind the camera action.
In the course of this fun chat, for this making video, Sonam revealed a secret about her co-actor. Did you know that Ayushmann Khurrana might be seen frolicking with our bikini clad babe Sonam in a sizzling number, but did you know that the cool-dude is scared of water? "Ayushmann Khurrana can't swim at all!" revealed Sonam. Right after that candid pol-khol, the Vicky Donor actor clarified that everybody in his family knows how to swim except for him and that makes Ayushmann a black ship of the herd.
It so happened that as a kid Ayushmann almost got drowned while learning swimming. Since then, the Khurrana boy is scared to go near the water. Sonam on the other hand is a water baby who knows her strokes like a pro. Watch the two antagonistic couple (when it comes to dealing with the water) having a great time otherwise while shooting for this fun number!