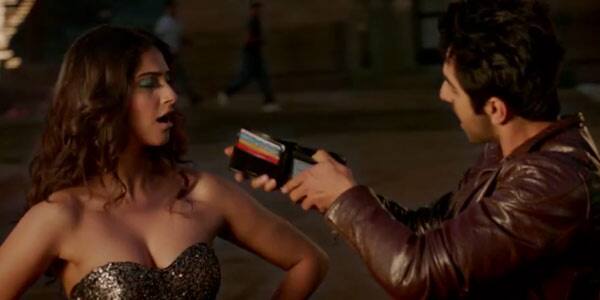 The makers of Bewakoofiyaan have released a new track from their film. Though it's not as good as song Gulcharrey, wethinks it's a decent hear!
Khamakhaan is the latest song from Bewakoofiyaan is out and it features Sonam Kapoor and Ayushmann Khurrana. Unlike Gulcharrey, this one is not a foot tapping number but it will appeal to those who listen to music just for fun. The lyrics are interesting but the music is just about okay which why you may not hear Khamakhaan till the very end. Coming to the video, you get to see the Kapoor lass dancing around her hero. But neither Sonam's moves nor her attire impressed us. The babe looks a little plump but maybe that's coz she isn't wearing any heels while grooving to this number. However, Sonam surely needs to learn how to groove gracefully. As far as Ayushmann is concerned, the talented lad is his usual self but what's funny is the way he just cannot stop drooling over his sexy girlfriend especially when the Kapoor girl tries to move seductively. Watch the video and you'll know!
All in all, Khamakhaan is a fun song which either you will like it and won't mind hearing it again or you may stay away from it after listening it once. So Bollywoodlifers hear the song, watch the video and tell us what you're going do – hear it again or is it enough once?