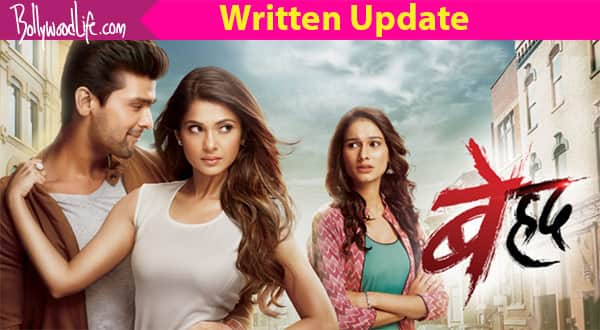 Arjun (Kushal Tandon) loses his cool on the police inspector and asks him why aren't they listening to him. Inspector slaps him. Saanjh says he has no right to raise his hand on him, she says she will file a complaint against him. Arjun gets a call from her mother. He tells her that everything is fine. Saanjh tells Ayaan a girl has given them their number. He tells them that he had met her on a dating website and he didn't know that she is into drugs dealing. Arjun asks Saanjh to get Ayaan's bail papers as she is a lawyer. She calls her boss but he doesn't pick up. She assures them that she will get his bail papers and leaves.
Arjun scolds his brother that now he will have to spend the entire night in the jail. Maya (Jennifer Winget) comes and says he will not to have to spend the night in the jail. Arjun gets shocked to see Maya there. Her lawyers hand over Ayaan's bail papers to the police officer. Ayaan tells them that the police inspector raised his hand on Arjun. She wipes of the blood from his lips. Police Inspector orders his officer to bring out Ayaan. Kawyer tells the inspector that she is Maya Melhotra. She asks him if he wouldn't offer tea. She intentionally spills the tea on his uniform and asks him to go an change. Arjun thanks her. She says not yet. She asks him to come with her. She gets into police inspector's room and gives him a tight slap. Inspector says he can put her behind bars for this. She says there is no proof that she slapped him. She threatens him of giving the news to the media and asks him to act normally and leave them till the gate.
Saanjh comes crying and apologises to Arun for not being able to get Ayaan's bail papers. She sees Ayaan and asks him how did he come out. Maya says he has got him out on bail. Arjun thanks Maya. She says she has not done anything, she can do anything for the people she loves. Maya offers lift to Ayaan and Arjun. Arjun says he will go with Saanjh. Maya says he wants to discuss the shoot with him and asks Ayaan to give Saanjh company. Saanjh taunts her. Maya praises her and says she is very understanding.
Maya goes and tells Ayaan that there is no need to discuss the case with anyone. She says if he needs anything then she is just one call away. ALSO READ:Beyhadh 14th December 2016 full episode, written update: Arjun returns Maya's gifts