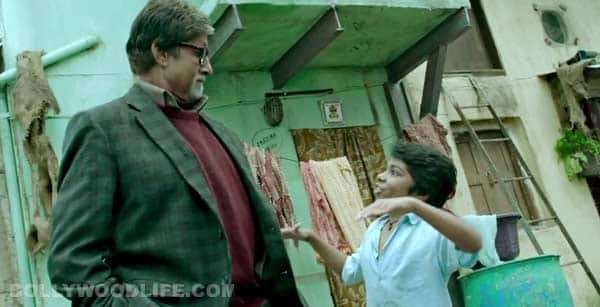 The new song from Big B's upcoming film is out and wethinks its absolutely entertaining. Hear it and you'll agree with us
Dharavi rap is the latest song from Amitabh Bachchan' ghost comedy Bhoothnath Returns which will hit the theatres tomorrow.  This song features Sr Bachchan and child actor Parth Bhalerao who has also crooned this rap number along with Anish. Composed by Ram Sampath, Dharavi rap is a fun track with quirky lyrics and interesting music. The song basically talks about how life is in one of the world's largest slum area. However, the makers have given it a Bollywood touch which makes this rap song ekdum paisa vasool. Yes, Parth Bhalerao has sung this number beautifully but the talented kid also knows how groove. In the video, you get to see the Shehenshah of Bollywood along with the child actor and we must admit the latter's screen presence is as strong as the former's. The fourteen-year-old kid is indeed a star in his own way, hai na? There is Meena Kumari, Milkha and Ferrari in the video too which is hilarious. Confused? Well, watch the video and you'll understand what we are trying to say. But the highlight of the song is when Amitabh Bachchan tries to match steps with Parth Bhalerao. Watch out for Big B's expressions, they will certainly tickle your funny bone. And not forget, at the end the duo does a bit of street dancing which is impressive.
Overall we liked the Dharavi rap – it's peppy and hummable. Most importantly it leave a smile on your face. So Bollywoodlifers quickly check out the new song from Bhoothnath Returns and tell us what you think.