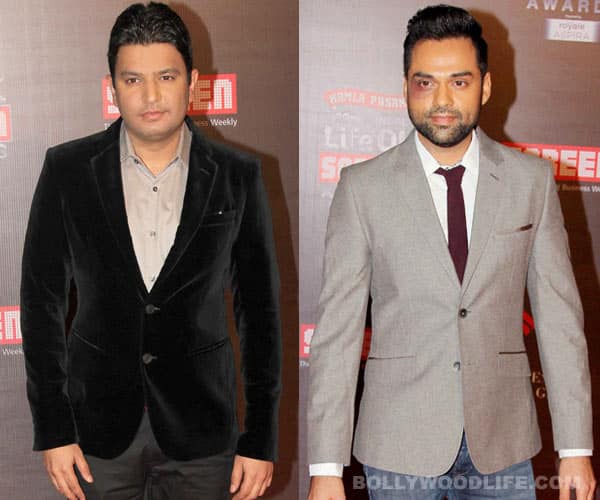 While Abhay Deol might have sported a black eye to symbolise the protest he has staged, when the marketing of his forthcoming movie went for a toss thanks to the issues between Bhushan Kumar and Shankar Ehsaan Loy, the music label's head clears the air saying, he has no issues with Abhay Deol
It all started when T-series owner Bhushan Kumar went against Shankar Ehsaan Loy, the music directors of Abhay Deol's upcoming film, One by Two. We hear that there's a war brewing between them, as the artists want a share in royalty from the music label. And though One by Two's music hasn't been released yet, Abhay has chosen sides. The actor was spotted with a black eye when he attended the Screen awards with his girlfriend Preeti Desai; obviously, everyone wanted to know what happened. Later, we were informed that Abhay wasn't actually beaten up by anyone but he was sporting the black eye as a symbol of protest.
And now Bhusuhan Kumar has cleared the air as industry folk wondered if this war involves Abhay and T-series. "This thing is not between me and Abhay Deol because we have acquired the rights of the music from Viacom 18 which is the producer of the film and whatever paperwork needs to be done should be between Shankar Ehsaan Loy and the producer of the film which I just came to know three days back because Viacom was the producer. I have taken the rights from Viacom and if Viacom has misrepresented us then we will have to see what is our stand on that legally, but the rights we have obtained are from Viacom 18. And from what I have come to know, it is the co-producer of the film Abhay Deol who has not given the rights to them. So it is between them and they have to sort it out and I don't know from where they are protesting against us that we are not doing it. Unless we have the clear rights we will not be able to release the music of any album," maintained kumar in an interview.