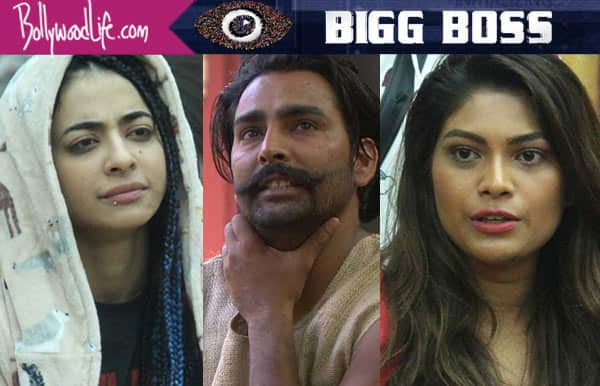 The previous episode of Bigg Boss 10 finally disclosed the surprise to the contestants. They find out that it was actually Manu Punjabi and Priyanka Jagga who had been taking all those decisions for in the house. They also pick Manveer Gurjar, Lopamudra Raut and Bani J to fight for the next captaincy task. Manu and Priyanka enter the house again and the housemates are more than happy to see Manu. While he sorts out his differences with Bani and some of the other housemates, Priyanka tells Om Swami that no God can save him from her now. Swami is definitely shocked to hear this from his daughter but he tries to act cool in front of everyone and picks a fight with her.
Manu resolves the differences between Mona Lisa and Manveer pointing out how bad it looks on camera that their friendship is so weak. He talks to them separately, too, about it telling Manveer that he can't let someone else manipulate his decisions. He opens up to Mona Lisa about how their respective fiances are reacting to their friendship in the house. He tells her that more than Priya Saini having any problem with them, it is Vikrant Singh Rajpoot who has more problems with their friendship. He also tells her that he doesn't know what made everyone think that there is something going on between them since they never did any such thing. (ALSO READ: Bigg Boss 10: Forget Priyanka Jagga and Om Swami, Imam Siddique to wreak havoc inside the house)
In the upcoming task, Bani, Lopa and Manveer with have to fight it out for captaincy. They will be given a captaincy ring which they will have to snatch from each other. The first two people to give up will be out of the task and obviously, the winner will become the captain of the house. They even jump in the pool during the task so someone loses balance and lets go of the ring. While they are in the pool, Priyanka does everything she can to irritate Lopa. During the task, Bani loses her cool at Lopa whose move could result in an injury. She tells her again and again to not be stupid enough to hurt herself. She actually shows some concern by screaming at Lopa.
Excited much for the next episode? Post your thoughts in the comments below and stay hooked with us for more juicy updates on Bigg Boss 10.
Priyanka Jagga looks sizzling in this picture

Priyanka Jagga is looking smoking hot and sexy in this black outfit. She is one of those few who can pull off any look be it a swimwear or traditional. Add to that, her killer smile and you have got yourself a lethal combination.

Priyanka Jagga in this side slit blue gown is grabbing all eyeballs

Who can look as hot as Priyanka Jagga? She's looking extremely desirable in this blue gown with side slit and we are sure many boys out there are falling for this hot and sexy TV show contestant and envying her husband.

Priyanka Jagga's this picture can make any boy go weak at his knees

Priyanka Jagga is looking extremely hot and sexy in this black dress. The Bigg Boss contestant known for her charm and sex appeal is looking extremely hot and sexy and we are definitely waiting for her next controversial move on the TV's most famous show.

Priyanka Jagga's in this hot selfie is a sight to behold

Priyanka Jagga's this picture is shouting HOTNESS. The Bigg Boss contestant looked extremely desirable and sexy in her first TV outing and this picture is definitely making us wish to see more of her in future.

Priyanka Jagga redefines the word HOTNESS in this golden tube dress

Priyanka Jagga looks smoking hot in this golden tube dress and please blame this actress for the sudden rise in city's temperature if any.