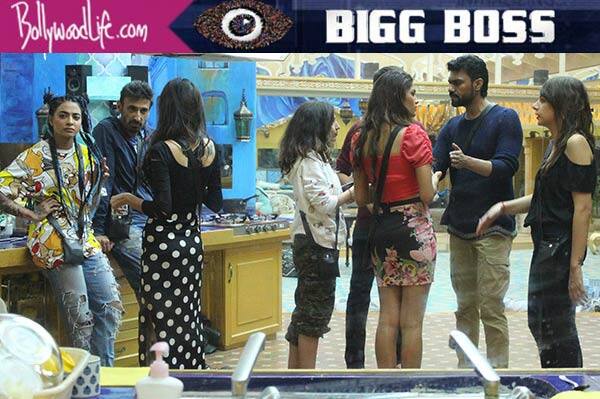 It is day two inside the Bigg Boss 10 house. This season of Salman Khan's controversial reality show has a mix of common citizens Indiawale and celebrities. It is going to be a kick-ass season drama and we have got enough inkling of that already. There are contestants who do not give a damn and have no baggage. Our celebs have turned sevaks for the celebrities and it is a whole new ball game. The first day had some humour, drama and a hint of the fights to come. It looks like it is going to be a dhamakedaar season and our Indiawale believe in playing the game to the hilt. We have been promising an entertaining ride.
Here are Live Updates of the happenings inside the house…
#The contestants say that Manoj Punjabi is not letting them sleep. He says he went to make eggs. Karan Mehra says that you guys are getting up and we are not getting to sleep. Karan tries to explain to them that they can sleep only after the common men can sleep.
#It is day two and the house wakes upto Gupt Gupt title track. Swamiji compliments Monalisa on her dancing skills. Navin tells Swamiji that he has so much energy in him.
#Manoj tells Karan Mehra that the cooking of the celebs is very Vaahiyat. They have an argument. Karan says we will try to improve. VJ Bani tells Manoj to apologise and say that one should appreciate the effort. Karan seems to be miffed about the Vahiyat comment.
(Also Read: Bigg Boss 10 October 17th 2016 written update: Om Swami's hilarious revelations, Bani and Priyanka's heated argument made tonight's episode entertaining)
#VJ Bani tells Priyanka Jagga to be a little courteous. She says I told please to Lopamudra to get salt for me. Priyanka holds a conference with Manoj, Navin and Manveer. Navin says they are not fighting within themselves. Manoj says they did not feed us aloo parathas saying there were no potatoes but they are eating boiled potatoes inside. They say they are celebs, they will eat well themselves and feed others badly.
(Also Read: Bigg Boss 10: Gaurav Chopra, Antara Biswas, Priyanka Jagga and Manoj Punjabi nominated – who should be eliminated this week?)
#Manoj mimics how the celebrities are doing the tasks. He says they are getting footage. He also says that Swamiji is getting importance. Akansha comes and joins them. VJ Bani tells Priyanka Jagga to be a little courteous while she says that she is courteous only that Bani does not hear them. Rohan explains to Manveer that there has to be clarity in when someone is pressing the bell.
#Priyanka lectures Gaurav that she does not need to say please every time. This is a game and we will not expect you to say please. She says I asked Monalisa for a drink four times but no one listened to me. Priyanka bursts into tears.
#Gaurav tells Bani that Priyanka is crying and wants to send her to jail. He says I have explained it to her. He says the woman just wants to create a scene. Lopamudra and Priyanka have a argument over a small thing the former said to her.
#Priyanka tells the Indiawale that Lopamudra said that she needs mental treatment. She says I do not care who you are? Lopa says even I do not care and my sabzi got burnt. Priyanka says you insulted me.
(Also Read: Bigg Boss 10: Om Swami, Priyanka Jagga and Manu Punjabi create chaos in the house)
#Lokesh Kumari tells Bigg Boss that Swamiji needs batteries as his mike is not operating. He tells her to tell Bigg Boss that he needs two red and white brushes. He says the makeup man knows where it is.
#The celebs discuss Priyanka and her background. They say that she says her surname is Muise and that her husband is a foreigner. They make fun of her surname, Muise. Gaurav Chopra says on dustbins it is also written use.
#Salman Khan says there is a game where the celebs have to match dark secrets with relevant contestants. It is a luxury budget task. If celebs win they the task, they will become masters and vice versa.
#Swamiji tells Lopamudra that Navin is torturing him immensely. He says you know my secrets but you do not reveal them in public. He says I am requesting you to remain silent. Lopa says you threatened me inside. She says I respect you. He tells Manveer that Salman told Lopa a lot about Swamiji but he does not want her to reveal them.
#Lopamudra says that Swamiji threatened me. She says it is not fair that he would behave in this manner. She says his manner of talking is unacceptable.
#Bigg Boss calls all the celebrities to the activity room. They are given a clue about a certain contestant. Priyanka asks Rahul Dev if he drinks or smokes. He says he is fitness conscious. Celebs are trying to find out who is the contestant. Gaurav asks Akansha if arranged marriage works. She says not always. She says my in-laws and parents were best of friends and my wedding was arranged after my break up. He gives her a manicure. Gaurav asks Akansha if her eyelashes are really that long. She says they are fake with mascara. He says she has pretty eyes.
#Akansha reveals that she and her husband were incompatible. She says I could not talk with my husband as I talk to you. Gaurav guesses in the evening that it is Akansha and she says it is a right guess.
#Swamiji blames Akansha for letting the secret out. She says Gaurav was aware from before. Akansha objects to him calling her ghulam. She says he has no right to talk to her like that. She gets upset almost using the F word.
#Swamiji tells Gaurav that Akansha's intentions are not clear. He says her character is doubtful and she is not doing a proper thing by exposing her past before him. He asks Gaurav to be careful and if he has feelings for Akansha. He tells him to chill and relax as it is a TV show.
#Lopa overhears Swamiji talking about betrayal and gets upset thinking he is talking about her. They fight once again and he talks about his organisation. Bigg Boss calls him and warns him that certain kind of conversation is objectionable inside the house.
#Manveer is also upset with Swamiji that he shouted at them after Akansha's revelation. The latter says people lose senses in anger. He says I have apologised. Lopamudra steps in and says you need to apologise to all women of the country. She tells him to hold his ears. Lopa says you are saying this just for footage and you'll forget all this once you get out.
#Navin tells Swamiji to help them in fighting Rahul Dev and Gaurav Chopra who are old in age. He says you should not fight with women. Swamiji quotes Bhishma from Mahabharata. Then, Navin reminds him that they are not Arjuna but common men.
Precap: Indiawale and celebs have a massive fight. Gaurav tells people that Swamiji need to mind his language inside the house.
Bani

Bani

Bani gets annoyed with the drama in house

Priyanka Jagga

Priyanka starts crying when had a agruement with Lopamudra.

Bigg Boss

Everyone listening to Big Boss when he announces the luxury budget task.

Gaurav Chopra

Gaurav Chopra reads the instructions for the luxury budget task of the week.

Celebs vs. Manoj

All the celebrities take Lopamudra's side when Manoj passes comment on her cooking

Manoj and Lopamudra dispute.

Manoj and Lopamudra gets involved in an argument when Manoj gives a comment on Lopamudra's cooking.

Swami and Lopamudra's fight

Swami also adds up a fight with celebrity contestant Lopamudra.

Swami and Akansha fight.

Akansha and Om Swami involves in a fight and Swami fights back to keep this point of view.

Akansha had a fight with Om Swami

Akansha involves in a fight with with Om Swami
Also Watch –