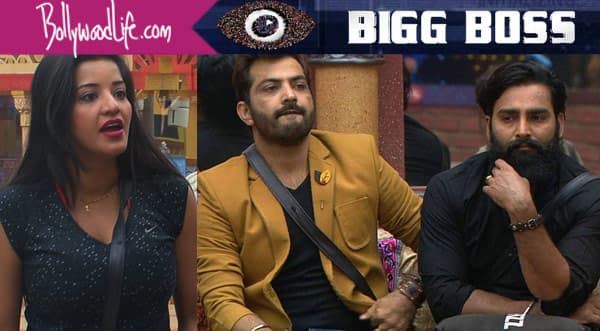 There is a lot of drama in the Bigg Boss 10 house with Priyanka Jagga's return and Bani J's outbreak in the house. Apart from that Manu Punjabi and Mona Lisa's friendship is also kind of in trouble, thanks to Priyanka. In the previous episode, Bigg Boss had introduced two tasks, the luxury budget task and the captaincy task. The luxury budget task will require the challengers to keep cycling through the night and day so the contestants can have continuous supply of basic necessities and sleep. Bani loses her cool during the task, at night and stops cycling causing the alarms to go off.
Bani is pissed at not being appreciated in the house by anyone and says that people need to be more grateful. She expresses her feelings and frustration to Rahul Dev who just gives diplomatic answers and clearly doesn't support her. Apart from that, Priyanka keeps hitting on Manu Punjabi to make Mona Lisa insecure. While that seems to work, Manu is aware of her strategy and makes it a point to keep his distance from her. He even told her that she has two kids and should not be behaving like this on national television. But who can stop Priyanka! Currently, there is a lot of planning, plotting and drama in the house because of the captaincy task. In fact, Om Swami cries and asks Sahil to not empty his test tube. Yes, that's his new thing, cry and get people to sympathise with him. (ALSO READ: Bigg Boss 10 30th November Episode 46 highlights: Rahul Dev supports Lopamudra Raut over Bani J)
In the upcoming episode, we will see what has never happened in this season yet. Manu, Manveer and Mona Lisa get into a heated argument in the house while discussing about the captaincy task. The discussion leads to a fight and Mona Lisa breaks down in the confession room wanting to leave the house. Well, someone in the house will be really happy to see these three fight. Yes, we're talking about Priyanka. Apart from that, tonight's episode will also determine the two contestants who will compete with each other for captaincy.
The challengers will stop cycling as they are physically exhausted, which will result in other contestants not getting any access to the basic supplies in the house. Lopamudra Raut and Bani will also have another fight because of Bani's stubbornness over not cycling. Let's see who makes the most of all this drama in tonight's episode. Post your thoughts in the comments below and stay hooked with us for more. (ALSO READ: Bigg Boss 10: Is Priyanka Jagga's friendship with Mona Lisa just a way to get back at Manu Punjabi?)
The Dome Task

Bigg Boss introduces yet another interesting nomination task, the Dome task, in which each wild card contestant is asked to choose anyone from the existing contestants with whom they will like to play the dome task. Elena challenges Nitibha, Priyanka picks Bani, Sahil chooses Rahul and Jason takes Gaurav.

Image credit: Facebook

Priyanka Jagga flirts with Manu Punjabi and calls Bani her sister-in-law

During the task, Priyanka Jagga flirts with Manoj Punjabi and calls Bani his sister-in-law.She tells him that she has made peace with her and now Bani is like her sister. She even goes on to say that Manu only belongs to her and nobody else.

Image credit: Facebook

Gaurav Chopra upset with Rohan for not supporting him in the Dome task

Gaurav Chopra, after defeating Jason Shah in the task, gets upset with Rohan for bonding with Jason. He reminds him of their strategy of giving a tough time to the challengers.

Image credit: Facebook

Bani voluntarily loses the dome task

Bani gives up the dome task for Priyanka Jagga as she wanted her to stay in the house.

Image credit: Facebook

Om Swami's transformation

Once Swamiji eats chicken, Manu suggests Swami to give himself a full makeover and repent for all at once when he is out. Om agrees to do it. Lopamudra Raut comes with scissors and combs and gives Swami Om a fresh look. He ran around the house showing off his new look and credited it to his 'daughter' Priyanka Jagga, whom he wishes to see happy.

Image credit: Facebook

Om Swami's hypocrisy

Swami Om has turned non vegetarian, breaking his religious norms. He ate chicken in breakfast and told everyone that he will repent and cleanse himself once he is out. Now that's hypocrisy level 100.

Image credit: Facebook

Priyanka playing divide and rule with Manu Manveer and Mona

Instead of doing the expected and targeting the celebrities, Priyanka Jagga is devoting her time and attention in breaking the strong bond of the trio - Manveer, Manoj Punjabi and Mona Lisa. She is playing mind games with both the boys and alienating Mona.

Image credit: Facebook

Lopamudra Raut and Rohan Mehra give pep talk to Rahul Dev

This was a task between contestants and wild card entrants. So it was obviously a good time to showcase each other's loyalties. Lopa definitely didn't want Bani to win neither did Gaurav Chopra's victory matter much to her. So she chose Rahul to exhibit her support towards the celebrity gang.

Image credit: Facebook