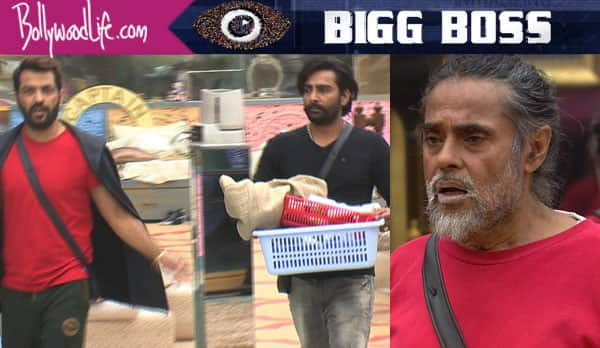 Bigg Boss 10 is finally increasing its pace. Episode after episode we are seeing something exciting happen inside the house. A big thanks to contestants like Om Swami, Priyanka Jagga. The show is in its seventh week and the competition to survive is getting tougher. Cracks in friendships are appearing, and tolerance level for Om Swami is decreasing. Here is what you can expect from tonight's episode.
The women of the house will decide to have a fun time in the pool. When in the pool, Lopamudra Raut and Nitibha Kaul will try and drag Priyanka Jagga in the water. But this will only result in Priyanka getting injured. We can assume that it must be a minor injury and Priyanka must be projecting it like she has fracture. Om Swami will find yet another reason to be the drama queen he is. He will shout at the girls and accuse them of being careless, irresponsible. He will bring meds for Priyanka and show that Nitibha and Lopa aren't doing anything to help her. This will infuriate Om Swami and she will lash out at him. Swami will instigate her more, to the point where Lopa will throw a toilet paper roll at him. Thankfully she will miss, or else she might have gotten liable to instant eviction. Swami will make a mountain out of a molehill and ask Bigg Boss to throw Lopa out of the house. Lopa will come up to Swami and say if she really had to hit him, it won't be with a toilet paper roll but with a tight slap. (I am secretly on Lopa's side) Also Read: Bigg Boss 10 1st December 2016 Episode 47 LIVE updates: Manoj Punjabi tells Manveer Gurjar about Priyanka Jagga' evil strategy
Also, during the captaincy task – which has something to do with covering a gigantic canvas with the colour of your team – Manveer will get injured. He will slip and hit his head on the floor.
Challengers are tired of cycling continuously

The Bigg Boss 10 contestants wake up to 'Rang De Basanti'. Priyanka Jagga tries to single out Manu Punjabi and get Manveer Gurjar to be on her side. The challengers are tired but still keep cycling and they ask Priyanka to speak to the contestants. The gong rings when Om Swami gets into a fight with everyone. Priyanka shuts him up and asks all the contestants if they want to empty their test tubes.

Lopamudra empties Mona Lisa tube

Lopa gets up and empties her test tube since no one took the initiative, which throws Mona Lisa out of the captaincy task. Priyanka and Nitibha Kaul bicker about assigning duties properly.

Fight between Elena Kazan and Lopamudra Raut

Elena Kazan asks Lopa to show them what they have prepared and they will then start cycling. Lopa gets offended and the contestants throw a tantrum about it. The contestants start bickering, discussing and blaming everyone for all the miscommunication. Priyanka loses her cool at Nitibha. Priyanka walks in asking Elena if they didn't want to cycle because they didn't knead the dough for Bani J.

Priyanka Jagga out of the captaincy task

Everybody starts bickering when Bani interferes and tells them that they are very tired and want things to function efficiently. Elena and Lopa also get into a heated argument. Priyanka and Nitbha get into an ugly argument when Swami interferes and Nitibha calls him her father. Bigg Boss announces that the luxury budget task is over and that he is disappointed with Priyanka's performance and will not participate in the captaincy task.

Mona Lisa and Manu Punjabi talk about Manveer as a captain

Manu and Mona Lisa discuss about Manveer as a captain. Another gong rings in the evening and Sahil empties his test tube, throwing Swami out of the captaincy task. He then hugs Swami, who sits and sulks. After several failed attempts at getting Manu on her side, Priyanka tries to single him out by attacking his friendship with Manveer. Meanwhile, Swami gets emotional that Priyanka said that he is not her father. Manu, Manveer and Nitibha try to pacify him.

Manveer, Manu and Mona Lisa get into an argument

After a while, another gong rings and the housemates start discussing. Mona Lisa and Manveer get into a fight when he hints at her to empty her test tube. Nitibha gets up and empties her test tube which puts Lopa out of the captaincy task. Later on, Manveer and Mona Lisa get into an argument in the garden and Manu asks them to sort it out. Manu asks him to keep it down but Manveer refuses to listen saying he is hurt. While they are discussing, Priyanka interferes and points out Mona Lisa's mistake.

Manu tells Manveer that Priyanka is trying to cause a rift in his friendship

At night, Manu tells Manveer that Priyanka is trying to cause a rift in his friendship with Mona Lisa. The two sort out their differences

Challengers throw tantrums under Bani J's influence

The yearning for captaincy has forced contestants to play their own game. While the challengers struggle to cycle through the night, the other contestants sleep while remaining confused on the unpredictability of the captaincy task. With an even more muddled mind, the contestants wake up to 'Rang De Basanti'. Tussles begin with breakfast as the housemates feel that the challengers are throwing tantrums under Bani's influence. Meanwhile, the third gong goes off and, with it, Lopamudra washes off Mona's chance at being named captain.

Nitibha gets into a fight with Priyanka Jagga

Tired and exhausted, the challengers refuse to pedal for gas until all preparations for breakfast are complete. And while the contestants argue it out, Nitibha gets into another fight with Priyanka when asked to prepare special dough for Bani's breakfast.

Priyanka Jagga losses the task as a sanchalak

Putting an end to their argument, Gaurav steps up and decides to make the batter instead. Trying to keep the contestants on her side for captaincy, Priyanka forgets some of her responsibilities as the 'sanchalak'. But Bigg Boss cannot be fooled. While the luxury budget task is deemed to be a success, Priyanka loses the opportunity to fight for captaincy.

Sahil Anand empties Om Swami's test tube

Om Swami decides that now that his 'daughter' cannot be the captain, it must be him! While he tries to convince Sahil to keep his test tube safe, he also seeks support from the other probable contenders - Lopa and Gaurav. But, when the fourth gong rings, Sahil goes ahead and empties Om Swami's test tube. With four more gongs to go, the politics and drama double up as Om Swami pegs his hopes on Manveer and decides to support him.

Bani J clarifies her disappointment with the housemates

When Priyanka Jagga goes to speak Bani J clarifies they just expect some time management as they are already tired because of continuous pedaling in the task.

War against Manu Punjabi and Manveer Gujjar to be the captain of the week

Efforts to become the new captain double as the contestants try to sway Nitibha and Mona's votes. While Mona stays strong and even gets into an argument with Manveer, Nitibha upsets Lopa by emptying her test tube. Meanwhile, after several failed attempts at getting Manu on her side, Priyanka tries to single him out by attacking his friendship with Manveer. And it works! Thick friends Manu and Manveer argue over Manu's decision to not influence Mona into letting go of Gaurav's test tube.