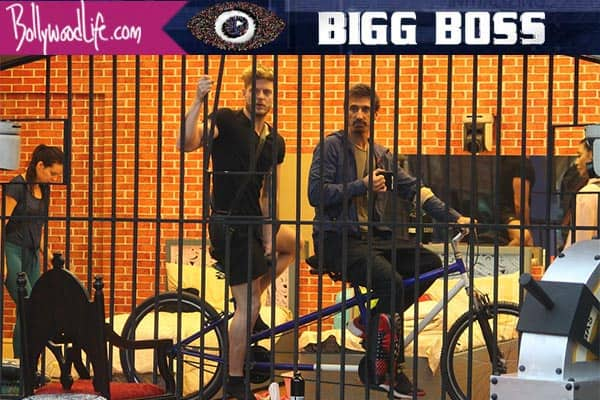 Last night's episode of Bigg Boss 10 was highly entertaining. Bani J was clearly not in a good mood, thanks to her enemy Lopamudra Raut because of which she refused to participate in the luxury budget task. In case you missed it, fret not! Check out the highlights right here on BollywoodLife. Take a look:
A nightmare of a luxury budget task – Waking up to a new day, the housemates experienced a surge of energy waking up to Maine paidal se ja raha tha. The contestants were dazed and confused when they realized that their basic necessity, water, is missing from the house. Clearing all their doubts, Bigg Boss introduced the luxury budget task Jab tak tumhare paer chalenge. For this task, the contestants have been deprived of water, gas, sleep and personal items, and to gain access to them, any two nominated contestants will be required to pedal a cycle at all times. Priyanka Jagga was asked to overlook the task in the absence of a captain, and Bigg Boss announced that if she proves her mettle, then she might get a chance to compete for captaincy.
Jason's demeaning remarks about Mona Lisa – Setting a disclaimer even before the task starts, Priyanka's game was on. The sleepy contestants relented and chose water as their first necessity as Bani J and Rahul Dev start cycling. As the morning progressed, Jason Shah confided in Om Swami that he feels that Mona likes him because of the look in her eyes. That's really disgusting of a statement right there. (ALSO READ: Bigg Boss 10 30th November 2016 Episode 46 LIVE updates: Bani J feels unappreciated in the house)
The captaincy task with a cool name – While the luxury budget task was still in progress, Bigg Boss introduced captaincy task titled Gayi captaincy pani mein. As a part of the task, all contestants are given a test tube bearing another contestant's name. Whenever a gong rings, one contestant's test tube will need to be emptied and the contestant needs to provide a legitimate reason that person should not become the captain. And, after the seventh gong, the last man standing will fight for captaincy. Wanting Priyanka to become the captain, Om Swami begged the housemates and even started crying to ensure she wins. The man is really a player, we have to admit.
Differences between Manu and Priyanka increase – When the first gong rang, everybody got into a discussion as to whose test tube should be emptied first. Manveer Gurjar stepped up first and emptied Sahil Anand's test tube. Nitibha Kaul got into a scuffle with Priyanka because she told Manu to eliminate Nitibha from the running for captaincy.  While Nitibha tried her best to convince Manu, he was not convinced and said that he will empty her test tube because she is not ready to be a captain. On the other hand, Mona voluntarily backed away from captaincy and asked Lopamudra to empty her test tube. Manveer tried to change her mind by telling her that if she's competing against Priyanka, Mona's chances to win are bright. The gap between Priyanka and Manu is increasing as he even refused to eat the dinner she has prepared, and even told Manveer that he cannot deal with her tantrums any longer.
Bani's outburst – So Lopamudra, who as we all know has not been on good terms with Bani appreciated everyone else, but Bani for their efforts in the luxury budget task. This obviously, didn't go down well with Bani, who stopped the task midway. Later she got into an argument with Rahul as he was taking Lopa's side. Sad.