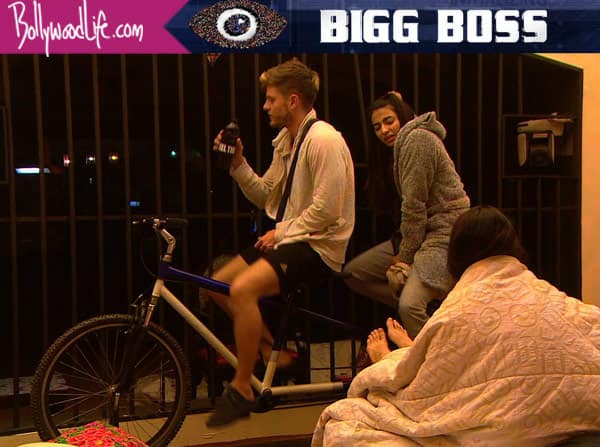 Bani J is a no nonsense person. No one can get away by saying anything to her, because she gives it back to the person right there. Haven't we seen Gaurav Chopra face her wrath quite often? The same happened with Jason Shah recently. So Jason and Bani, who are currently in jail were having a conversation about cigarette smoking. Bani asked Jason that why does he smoke so much, to which he replied that he stays in a polluted city like Mumbai, because of which he is going to die very soon. Yep, he said that. Can you believe it?
Just like us Bani was also surprised with his hilarious statements. The conversation continued and Jason kept defending his smoking habit. He then went on to say that he will die of cancer because of so much pollution. This is when Bani got ticked off a bit and asked him not to use the word cancer so loosely because her mother was diagnosed with the deadly disease recently. Thankfully Jason was sensible enough to realise his mistake and did the damage control by changing the topic. Here watch the entire video of this conversation right here and tell us what do you think about it.
Unseen #Jason n #Bani doing some masti in jail, Jason giving Gyaan to other contestants on smocking RT4 ye tu dikhana chaye tha ep mai #BB10 pic.twitter.com/5FB3EVowJb

— The Khabari (@TheKhabari1) December 1, 2016
(ALSO READ: Bigg Boss 10: Is Priyanka Jagga's friendship with Mona Lisa just a way to get back at Manu Punjabi?)
As for Jason, he really needs to think twice before saying anything, we feel. In last night's episode of Bigg Boss 10, he made some sexist remarks on Mona Lisa, which didn't go down well with a lot of viewers. The international model was heard telling others that he feels Mona is trying to hit on him. He also added that it is visible in her eyes. Now everything was cool till here. But what he said next is shocking. He said that Mona is a Bhojpuri actress and must have dated a lot of other men. But she's never had the luck to date a firang and now she wants one which is why she is trying to hit on him. Not cool Jason, not cool at all.