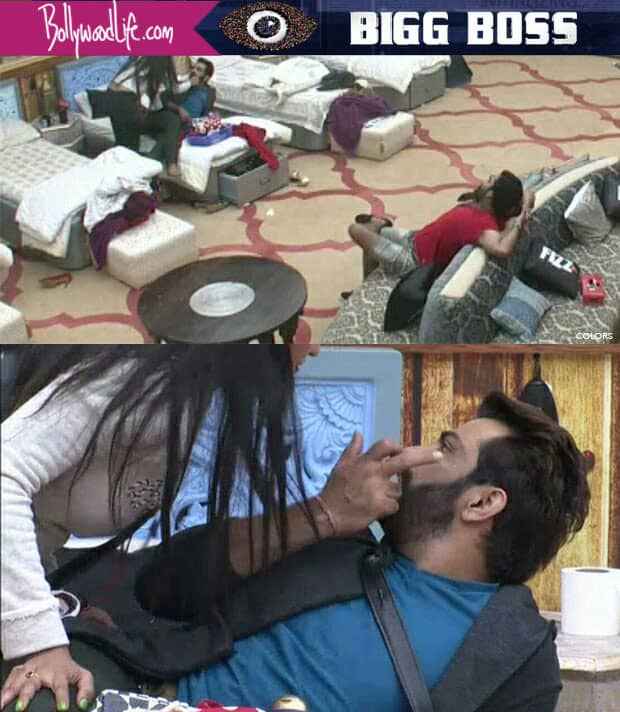 They might be in a committed relationships in the outside world, but Mona Lisa and Manu Punjabi have definitely grabbed the headlines with their closeness inside the Bigg Boss house. Both of them have maintained that they are not more than good friends, but their behavior with each other is certainly saying otherwise. Now we are not assassinating their characters, like Om Swami, but the two end up going over the top with the romance that they are faking for the cameras, which is putting them in the bad light of the masses.
Now yesterday, both of them were in the bedroom, when all of a sudden Mona bend down herself on Manu, while he was sleeping on the bed. And all of this happened in front of Manveer Gurjar, who was sitting on the couch. It's high time that these two tone it down a bit, because by doing this they are upsetting their significant others, who are obviously watching the show daily.
In fact, if you will remember, in an EXCLUSIVE conversation with BollywoodLife, Mona's boyfriend and Bhojpuri actor, Vikrant Singh Rajput said that he is majorly upset with Mona and Manu's closeness. "I was very sure that the two of us will get married, but now I have my doubts. And I can tell you that Mona is very much aware of the fact that I am not liking what she is doing with Manu. And she must be under this impression that I will understand her intentions, but I am a bit upset and will sort out things with her once she is out of the house," said Vikrant. (ALSO READ: Bigg Boss 10: After Om Swami, Jason Shah makes some DEMEANING remarks on Mona Lisa)
Manu's fiance Priya Saini, on the other hand seems to be fine with Manu's antics. In fact, she accused Mona of being a desperate women craving for Manu's attention. She said, "I hate Mona Lisa; she is a despo. Woh jab dekho Manu ke aas paas ghumti rehti hai. She has been nominated so many times in the show. She would not have been able to survive the show, had it not been for Manu. In fact, in one of the episodes, Manu ne bol bhi diya tha ki Mona ne ek mahina survive kar liya show mein, that's more than enough. She knows that the day Manu and Manveer abandon her, it would be very difficult for her to stay in the house. That's the reason she keeps hanging out with both of them and tries to get intimate with Manu by hugging and kissing him."
We feel both Manu and Mona Lisa are at faullt here and it's time that they stop faking their romance. Viewers are not fools, they know what is real and what is not. Agreed?