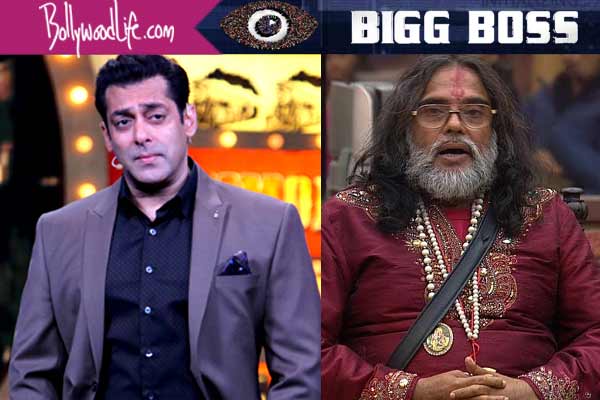 Om Swami is being called out on Twitter for his latest claims. His unceremonious ouster from the Bigg Boss house is clearly playing tricks with his mind. In an interview he appeared on after being thrown out of the house, he has said that he slapped Salman Khan when he came inside the house for New Year's special episode.
According to Om Swami, when B igg Boss 10 host Salman Khan entered the house, he was going to light up a cigarette. Upon seeing this Om asked him to go to the smoking room. Salman agreed, but also asked Om to follow him to the room. When inside the smoking room, with no cameras, Salman told the self-styled Godman that he is a bigger "gunda" than him. This infuriated Om, after which he apparently slapped Salman for insulting a 'sanyasi'. Now that is one hell of an unbelievable story.  Also Read: Bigg Boss 10: Shah Rukh Khan and Salman Khan are twining it in the promo and we just can't wait for the episode to air
Om Swami was shown the exit door after he collected his piss in a bowl and threw it on two contestants Rohan Merha and Bani J, during a task. Now he is going out and giving out interviews in which he is calling Salman Khan an ISI agent, propagandist against Hindutva etc.
Slapping Salman Khan is not the only claim that Om Swami has made in this hilarious interview, but he also said that he has met 'Bigg Boss', further proving that he is not someone you should believe. He said that he was following the orders of 'Bigg Boss who lives in America'. Yep! According to Om, he was threatened with murder by the American Bigg Boss, who asked him to do all those things that he did inside the house. He also added that 'Bigg Boss' calls the girls at night, and makes them do dirty deeds.
Meanwhile inside the house, Manu Punjabi has expressed his disappointment in Manveer Gurjar to Mona Lisa. Manu is clearly not happy with how Bani has reacted to the whole thing and is also miffed at Manveer for supporting her. A task to rate Manveer as a captain created quite a stir in the house as Rohan Mehra and Manveer have a war of words.