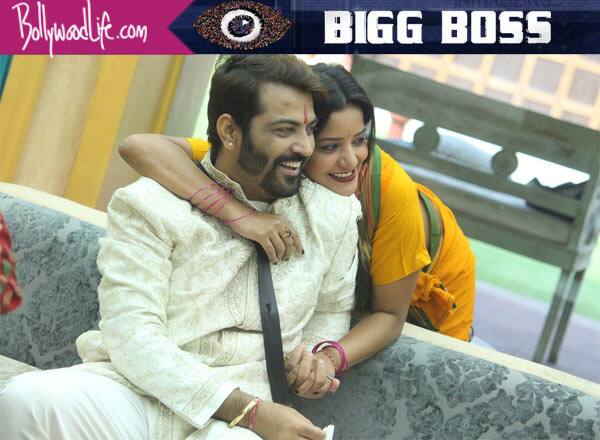 One of the main attractions of Bigg Boss 10 is romance. Yes, the success of any season greatly depends on who form a couple and how they conduct their romance inside the house. This year has been kinda thanda on the show except Mona Lisa and Manu Punjabi. The two were the first celebs and commoners to interact on the show and became good friends. Many inside the house feel they are a couple. From long conversations in the garden to Mona Lisa planting a kiss on his cheek, they have sent tongues wagging inside and outside the house.
However, their friendship has not gone down too well with their respective partners. Mona Lisa is dating Vikram Singh Rajpoot while Manu is engaged to Priya Saini. This weekend, Bigg Boss 10's host, Salman Khan will invite Vikram on the stage for Weekend Ka Vaar and inform Mona Lisa about his angst. The Sultan of Bollywood also plans to invite Priya Saini. They will tell their partners what the world outside thinks about their interactions outside the house. We know the partners are not happy about how these two have conducted themselves. It remains to be seen if there will be some heavy-duty rona dhona inside the house. (Also Read: Bigg Boss 10 1st December Episode 47 highlights: Thick friends Manveer Gurjar and Manu Punjabi get into a MASSIVE argument) 
In an earlier interview to a tabloid, Vikram had said, "We were supposed to get married, but now, I am confused. I know that this is all drama. Once she is out (of the house), things will get sorted. It's not easy for me or my family to watch this. Veena Malik jaisa kuch nahin karna because the public is smart and cannot be fooled." It seems his family is also quite displeased. The two had been dating since a while and this is surely bad news for the Bhojpuri actress. (Also Read: Bigg Boss 10: Manu Punjabi and Mona Lisa set tongues wagging with their intimate pictures)
We guess that Priya might be more lenient on Manu. In an interview to a leading publication, she said, "I hate Mona Lisa; she is a despo. Woh jab dekho Manu ke aas paas ghumti rehti hai. She has been nominated so many times in the show. She would not have been able to survive the show, had it not been for Manu. In fact, in one of the episodes, Manu ne bol bhi diya tha ki Mona ne ek mahina survive kar liya show mein, that's more than enough. She knows that the day Manu and Manveer abandon her, it would be very difficult for her to stay in the house. That's the reason she keeps hanging out with both of them and tries to get intimate with Manu by hugging and kissing him." Well, it will be one hell of a weekend for Bigg Boss 10 fans!
Lopamudra Raut and Mona Lisa show off their sexy side to Manoj Punjabi and Om Swami

Om Swami and Manu seem smitten by the two ladies in a bikini inside the pool. Lopa and Mona Lisa leave no stone unturned to show off their glam and sexy avatar.

Lopamudra Raut and Mona Lisa take a dip in the pool

Team Celebrity is currently having lots of fun in the Bigg Boss 10 house after winning the luxury budget task. Bikini clad Lopa and Mona Lisa decide to take a dip in the pool.

Lopa and Mona Lisa swim their stress away and rejuvenate in the pool

Lopamudra Raut and Mona Lisa step out in sexy bikinis and sizzle in the pool. They are clearly having a gala time after finally winning the luxury budget task.

Manoj Manu Punjabi steps out to check out the two sexy bikini clad women in the Bigg Boss 10 house

Manoj Manu Punjabi checks out Lopamudra Raut and Mona Lisa turning the heat up in their bikinis. Who wouldn't be dumbstruck with so much hotness in the house?

Om Swami and Manoj Manu Punjabi sit by the pool watching the two hot women sizzle

Om Swami and Manu sit by the pool struck by the hotness in the pool. Swamiji even comments on Lopamudra Raut and Mona Lisa saying," Kya adaa hai!"