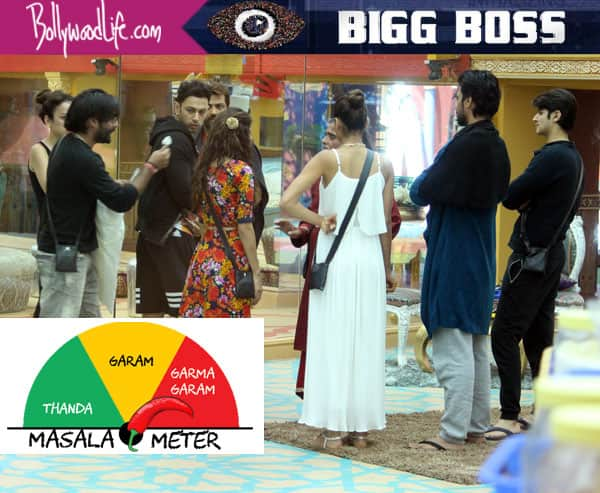 The Bigg Boss 10 contestants wake up to Shammi Kapoor's 'Chaahe Koi Mujhe Junglee Kahe' and rush outside to find who won the task between Priyanka Jagga and Bani J. They are asked to guess the winner. Meanwhile, Bani is discussing how much fun it will be to see Priyanka and Mona Lisa fight. Manu Punjabi asks Om Swami about his opinion of Mona Lisa and he says that he loves everyone equally. Manu lashes out at him in front of Priyanka, who tells Swami that he can never talk ill of any woman in the house. Swami, later, complains to Sahil Anand about his conversation with Manu.
Bigg Boss announces the winners of the task and asks the losers of the task to move to the challenger area. He asks Rohan to make sure that it happens quickly. Gaurav Chopra tells Bani how upset he is with Bani shifting to the challengers room. Bigg Boss calls Rohan to the confession room and asks him to be firm with the contestants to make sure that the nominated contestants do not come out of the challenger room. Rohan asks all the nominated contestants to get back in the challenger room. Priyanka, Manu and Manveer are wondering why Swami is checking pillows and hiding them. Priyanka scolds him and Manu, Manveer find out that he hid spoons in everybody's pillows. He justifies saying that iron helps keep the bad spirits away. (ALSO READ: Bigg Boss 10 29th November 2016 Episode 45 preview: Mona Lisa and Priyanka Jagga get into a heated argument while Om Swami's theft gets EXPOSED)
Priyanka scolds him and Manveer joins. Sahil takes Swami outside as Manu and Manveer check on every mattress and pillow in the room. Manu and Manveer complain to Priyanka about Swami stealing all of their toiletries and they prove it to her. They check his bags and find more things that he hid in his bag, including clothes. They decide to show it to everyone in the house. They confront Swami who relies on Priyanka for support but she tells him that he ruining his own reputation.
Swami and Manveer get into a heated argument as Swami refuses to accept anything. Swami starts shouting when Priyanka enters the bathroom to calm things down. Sahil decides to intervene but Lopamudra Raut and Gaurav tell him that this is an everyday drama.  Swami complains to Bigg Boss as Manu, Manveer and Rohan are laughing at him with constant comments. Swami breaks down in the bathroom after everyone leaves. Manveer tries to calm him down and Nitibha also joins him. Manu and Manveer apologise to him.
The Dome Task

Bigg Boss introduces yet another interesting nomination task, the Dome task, in which each wild card contestant is asked to choose anyone from the existing contestants with whom they will like to play the dome task. Elena challenges Nitibha, Priyanka picks Bani, Sahil chooses Rahul and Jason takes Gaurav.

Image credit: Facebook

Priyanka Jagga flirts with Manu Punjabi and calls Bani her sister-in-law

During the task, Priyanka Jagga flirts with Manoj Punjabi and calls Bani his sister-in-law.She tells him that she has made peace with her and now Bani is like her sister. She even goes on to say that Manu only belongs to her and nobody else.

Image credit: Facebook

Gaurav Chopra upset with Rohan for not supporting him in the Dome task

Gaurav Chopra, after defeating Jason Shah in the task, gets upset with Rohan for bonding with Jason. He reminds him of their strategy of giving a tough time to the challengers.

Image credit: Facebook

Bani voluntarily loses the dome task

Bani gives up the dome task for Priyanka Jagga as she wanted her to stay in the house.

Image credit: Facebook

Om Swami's transformation

Once Swamiji eats chicken, Manu suggests Swami to give himself a full makeover and repent for all at once when he is out. Om agrees to do it. Lopamudra Raut comes with scissors and combs and gives Swami Om a fresh look. He ran around the house showing off his new look and credited it to his 'daughter' Priyanka Jagga, whom he wishes to see happy.

Image credit: Facebook

Om Swami's hypocrisy

Swami Om has turned non vegetarian, breaking his religious norms. He ate chicken in breakfast and told everyone that he will repent and cleanse himself once he is out. Now that's hypocrisy level 100.

Image credit: Facebook

Priyanka playing divide and rule with Manu Manveer and Mona

Instead of doing the expected and targeting the celebrities, Priyanka Jagga is devoting her time and attention in breaking the strong bond of the trio - Manveer, Manoj Punjabi and Mona Lisa. She is playing mind games with both the boys and alienating Mona.

Image credit: Facebook

Lopamudra Raut and Rohan Mehra give pep talk to Rahul Dev

This was a task between contestants and wild card entrants. So it was obviously a good time to showcase each other's loyalties. Lopa definitely didn't want Bani to win neither did Gaurav Chopra's victory matter much to her. So she chose Rahul to exhibit her support towards the celebrity gang.

Image credit: Facebook
Swami complains to Manveer that someone stole his kurta and they go to the room to find it. Om Swami bitches about Manu and Manveer to Priyanka. Mona Lisa overhears and asks him to shut up. They start bickering when Manu and Manveer decide to interfere. Later on, Mona Lisa is talking to Manu and Manveer in the kitchen when Priyanka interrupts. Priyanka gets into a verbal disagreement with Manu and Manveer. She blames it on Mona Lisa who gives it back to her.
Mona Lisa tells her off when Priyanka asks her to stay in her limits. Manu asks them to sort it out privately but they decide to make a scene. Lopa goes to see what's happening and the two start bickering again. Manu and Manveer try to sort things out between the two. Priyanka kisses Mona Lisa and decides to sort things out. They hug each other with a fake smile. Bigg Boss asks Rohan how his captaincy is going so far when he says that he is trying his best to control everything. He tells Rohan that his captaincy has become a joke to which he says that he doesn't have more powers as a captain. (ALSO READ: Gauahar Khan REFUSES to speak about bestie and Bigg Boss 10 contestant Bani J)
Bani and Sahil are complaining about all the work that has not been done properly and that Rohan is not dedicating things properly. Later, Bigg Boss scolds everyone for not listening to Rohan and fires Rohan from his captaincy. He also declares that Rohan will never become the captain of the house again. After the announcement, Rohan asks the contestants if they thought he was a bad captain. He tells them that he thinks it's unfair that he can't be a captain again.
Manu and Manveer are discussing what they'll do if they become the captains. Lopa tries to make Rohan feel better but he sticks to being miserable. Swami expresses his happiness to Priyanka about Rohan losing his captaincy. Priyanka, Mona Lisa, Manu and Lopa are mocking Bani and discussing her birthday. Later on, Manu and Mona Lisa are discussing how close Nitibha gets to people at night. He applauds Mona Lisa for giving it back to Priyanka. Meanwhile, Swami and Gaurav wish Bani a very Happy Birthday and sing the birthday song for her.
She gets her protein cake and all the contestants gather around to sing for her. She cuts the cake and eats some of it. All the contestants are put off when Bani tells them that they can't eat the rest of the cake without asking her.