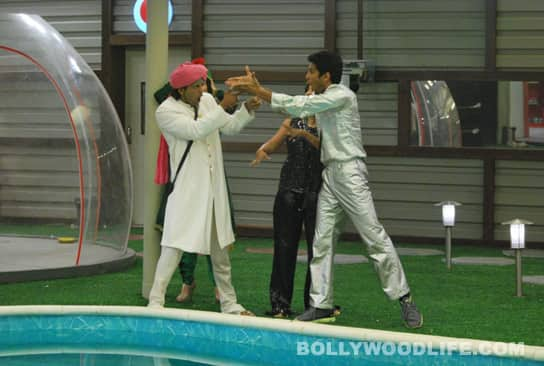 skip advertisement
Amar-and-Sky-arguing-211211
There are arguments, introspection and laughter on Day 80 in the Bigg Boss 5 house
Juhi Parmar and Siddharth Bhardwaj start the day with an argument. Juhi tells Sid to not splash so much water on to the dance floor when he goes swimming, as it makes it difficult to dance on it, but Sid replies that he did not do it intentionally. Both of them argue for a while and then get back to their own tasks. Later, Sid meets Amar Upadhyay and they both discuss how Sky is very tense about the situation at the house. Sid tells Amar that Sky's jokes poke fun at the housemates personal affairs, and it is not a good thing to laugh at them, as doing so will only encourage others to crack more such jokes. The two part ways and Amar goes to his room to do yoga. Sunny Leone finds his yogic postures funny. She makes faces, cuddles next to Juhi and both of them laugh at him.
Later in the day, a new housemate enters for one day under the Ek Din Ka Boss plan. The five housemates are happy with this development.
In the evening, Sky thinks aloud that his chances of winning are very hazy. Juhi and Sunny tell Sky not to be so negative in front of the other men, but Sky doesn't heed their advice. Meanwhile, Siddharth discusses with Amar how the atmosphere of the house has turned from fun and light to gloomy and silent now that only five contestants are left. The two talk about past events and mimic Shakti Kapoor and Lakshmi Tripathi.
Much later, Sky taunts Amar and he taunts him back. The two start arguing and even pass derogatory personal comments, but in the end, they laugh it off. The other three contestants enjoy the drama. Sid later goes to sleep while the other contestants perform their tasks. They make fun of Sid and his tendency to sleep.