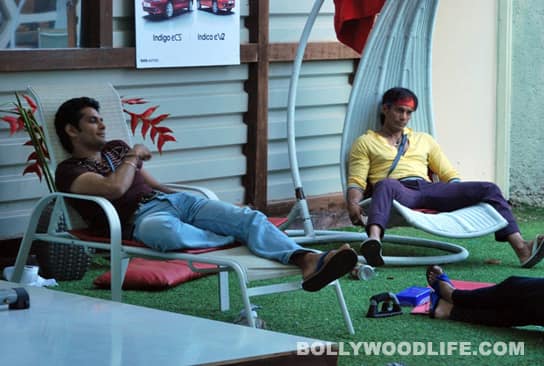 skip advertisement
The Jai and Veeru of Bigg Boss 5 are back to being friends on Day 89
The day begins with the song Lose control hinting to the housemates to live their best in the last week of the show. Siddharth Bhardwaj and Amar Upadhyay start picking on Sky. The two again fool Sky be pretending to have a secret task. Later Siddharth meets Mahek Chahal who complains to him that Amar is spineless and very desperate to win the show. Siddharth in turn is a subject of complain for Amar, who tells Sky that Siddharth is way too aggressive and childish in his behavior. The two discuss how Siddharth has repeatedly lied on the show. Amar tells Sky that he regrets backing Sidharth. Looking at them talking, Sidharth tells Juhi Parmar and Mahek that the 'Jai and Veeru' bonding is back.
Amar meets Sid and the latter immediately asks him if he had disclosed any of their discussions to Sky. Amar shoots back that he did not discuss other housemates with Sky. Mahek tells him point blank that he has been two-faced earlier too so it is reasonable that they have doubts about him now. The trio get into a heated argument. Later in the day, Mahek watches the video of her discussing her niece with Juhi. Mahek breaks down and the others console her.
In the evening, Sunny Leone tells Juhi that she has not been able to complete her part of her housework as Sid has not completed his part. Juhi takes up the issue with Sid and soon everyone joins the argument. Finally, Mahek takes Sid to the pink room and calms him down. When Sid comes out of the room, he sees Sunny and Sky doing his part of the house work. He gets even more irritated, but finally he makes dinner instead. Sid also apologises to Juhi, and the two hug each other. However, when Juhi is washing dishes with Amar, she tells him she doesn't understand Sid's behavior. Amar tells her it the patch up didn't really mean anything to Sid and his emotions were just riding high.
After sunset, all the housemates relax in the garden and discuss the events of the day. Juhi tells Sky that he is a good man and she is happy being with him. They also discuss how Sid seems like a good guy only when you don't know him very well. Juhi tells Sky that if there are any more troubles with Sid, she will just send Sky to deal with him.