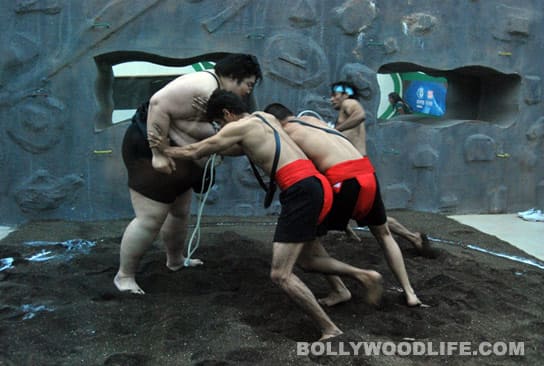 skip advertisement
The sumo wrestler brings a lot of fun to the Bigg Boss 5 house on Days 90 and 91
As Sunny Leone leaves the house, the final five contestants are happy that they have entered the finals. Bigg Boss gets the men to wrestle the new entrant Yamamotoyama, but all of them get very scared. Siddharth Bhardwaj is given the responsibility of taking care of the wrestler. The two become friends quickly. That evening, Yama sings a Japanese song and soon all the others join him in singing it. They teach him to sing Aati kya Khandala and Salman Khan's step from Dabangg.
The next day, all the housemates wake up to the classic song Sayonara, which makes Yama very happy. He jumps into the swimming pool and the water splashes out. Amar Upadhyay and Sky make fun of that and claim that it was like a mini tsunami. That afternoon, Yama's lunch arrives from outside in steel buckets. The entire house is shocked at the amount of food. Later, Yama discusses his love life with the housemates. Sid teases Yama with a red balloon and the two have a lot of fun. That night, Yama's dinner arrives from outside but Bigg Boss gets the contestants to serve him the food the Indian way. Yama enjoys the special treatment but sweetly asks the others to enjoy their dinner too.
Before they go to bed, Sky and Juhi Parmar taunt Amar on how he is always happy when another contestant has to exit the show.