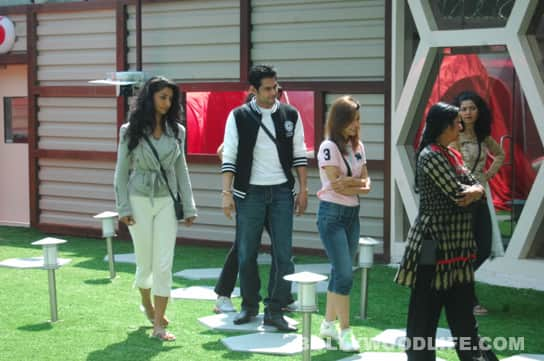 skip advertisement
Read on to know what happens in tonight's episode
The day starts with the entry of a new contestant, Amar Upadhyay. He's immediately accepted by the group since not only is he a new face but also because he brought in news from the outside world. Amar immediately bonded with Lakshmi as he supported her decision to enter the Bigg Boss 5 house. He also gave her the strength to fight with the people inside the house who mistreat her and her community. Amar also bonded with Vida and the two engaged in some harmless flirting.
Meanwhile, Pooja Missra continues to pick fights with the contestants, especially Gulabo and Mahek. Pooja tells Mahek that she is successful in life only based on what is going on in her private life and that is what has given her entry into Bigg Boss 5 as well. Amar also informs Mahek Chahal about what is going on outside the house. Shocked by the combination of negative things being said about her, the super-strong Mahek breaks down and cries hysterically. Fellow contestant Juhi Parmar consoles her and helps boost Mahek's morale. Lakshmi, getting sick of Pooja Missra's behaviour towards the fellow contestants gives her a piece of her mind.
As the day progresses, Shakti Kapoor and Sonika are called into the confession room. Due to the emotional rollercoaster ride and recent war of words between Pooja Misrra and the rest of housemates, Bigg Boss offers Sonika the opportunity to leave the house on humanitarian grounds so that she could have a happy and peaceful pregnancy. An excited Sonika is overjoyed at being given this prospect. She joyously announces that she is going home to live peacefully with her husband and family. Her fellow contestants, however, are shocked at the news but send her home with a tearful farewell and good wishes.
While going to bed, Vida, Mahek and Lakshmi pull Amar's leg about the sleeping arrangements in the house. They recommend to Amar that he share the bed with Lakshmi now that there was more room in the house following Sonika's exit!
ALSO READ: