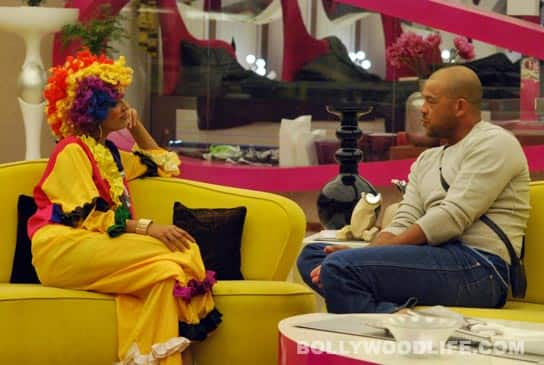 skip advertisement
Pooja-Misrra-clown-2-081211
With tedium setting in, the Australian cricketer and the ex-housemate enter the house on Day 67 of Bigg Boss 5
Juhi Parmar and Mahek Chahal meet in the kitchen while Juhi prepares tea. Mahek tries to clear the air with her, and the two discuss how everyone is staying away from emotional attachments. The two walk to the activity area, when Mahek tries to steal the keys from the jailers. She looks in the top drawer but doesn't find them. Juhi and Shonali Nagrani had deliberately hid the keys in the second drawer. Mahek laughs it off. Later, Bigg Boss sends a letter for Juhi to read to all the housemates. The letter states that the task has been completed. The jailers are happy but the prisoners are not as they were unable to get the keys from the jailers.
While the housemates get on with their daily routine, they hear about a flight that has landed in the activity area. All the housemates rush to see who is the latest entrant to the house. They are excited to see Andrew Symonds. They welcome him with applause, hugs and handshakes. Siddharth follows Andrew like his shadow all over the house. Andrew volunteers to clean the carpet, which is a first in the history of the house. Sky tells Sunny Leone that Andrew will not be the centre of attention for more than a week. Bigg Boss then announces he is sending a translator for Andrew.
All the housemates go to the storeroom and find a sealed wooden box. Amar Upadhyay and Sky open the box to find Pooja Misrra in a clown's outfit. Everybody welcomes her, while Siddharth is astonished. She mocks Sky, saying people have become his fans. Sky is upset but he laughs it off. Pooja requests Sunny to reveal her true identity before someone finds out on their own, but Sunny pleads with her to keep her secret. When the rest of the housemates go to sleep, Pooja hangs out with Sky and Sunny.