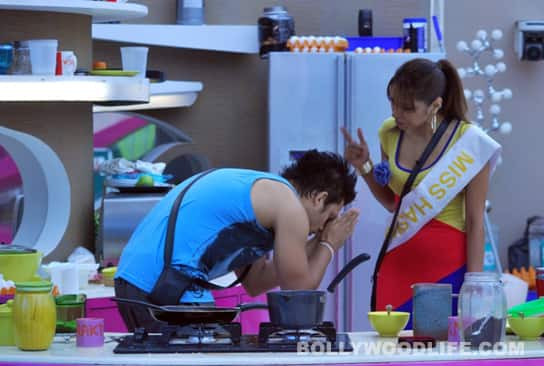 skip advertisement
The new day brings a new fight. Siddharth Bhadwaj complains that he doesn't want to follow orders of the new captain, Pooja Misrra. He tells her he will cook lunch with another housemate's help rather than wash the dishes. Pooja Misrra talks to Amar Upadhyay and Pooja Bedi about it and then agrees to Sid's request. Pooja Bedi and Sunny Leone chat in the garden and Pooja asks Sunny to take care of Sky once she is out of the house.
Back in the kitchen, Sky tells Siddharth sarcastically that  after the show ends, he wants to fly down to Delhi and meet Sid. Sid replies that he is not scared of Sky and he can come whenever he wants with whomever he wants. The two end up arguing and Sky calls Sid a copy cat. He also repeats Salman Khan's comments about Sid and wonders aloud how he can be a part of the house after all the humiliation he has suffered. Pooja Bedi walks in and tells Sid not to fight with others so early in the day. The two continue their argument in the garden in front of other housemates. Sid taunts Sky that he has no shows to do while he has a dedicated fan following who looks up to him. He also adds that if Sky crosses the limits, he will reveal to all what Sky had told him about Pooja Bedi. Juhi Parmar and Bedi intervene and try to bring about peace.
Later in the day, Amar Upadhyay and Siddharth discuss Sky and call him gutless. Amar says Sky can only fight with the girls but never dares to take on the guys. The two also claim that Sky has a scheming nature and its high time he stopped all this nonsense. Sid reveals to Amar that Sky had cribbed about him too to Sid. Amar calls Sky a barking dog who has no bite and says that Sky will never do anything when the time comes. They decide they will take their revenge on Sky soon. The two also gossip about Sky's growing friendship with Pooja Bedi and how the two look like a couple.
Bigg Boss calls Sunny into the confession room. Sunny breaks down saying that she misses her family a lot. She is hiding her true identity from the other housemate as they are too judgemental. Sunny comes out of the room and gets Juhi to sing a song for her.
Siddharth and Pooja Misrra have a huge argument as Siddharth behaves rudely towards Pooja Misrra. She calls Siddharth to her room to discuss the issue, but Sid says he will talk about it only next week. Amar, Shonali Nagrani, Siddharth and Mahek Chahal meet and imitate Sky, Juhi and Pooja Bedi. Amar and Siddharth imitate how Pooja Bedi advises Sky and Mahek imitates the animated conversation that Juhi and Pooja Bedi always have with each other.
As the day ends, Pooja Bedi and Sky hug each other and she tells him they are each other's best friends and would definitely miss each other. He tells her that she is the sweetest person in the house.