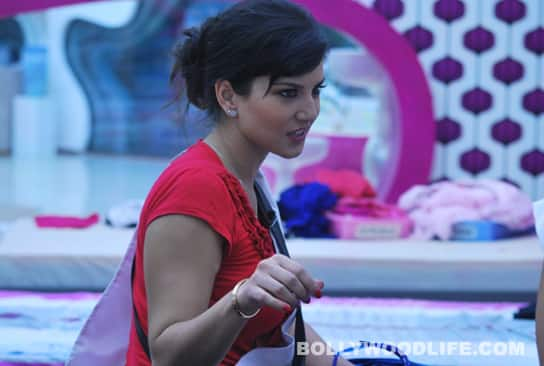 skip advertisement
That's what Sky wants the Bhardwaj boy to believe. But is it true? Read on to know what else Sky is up to on Day 52 in the Bigg Boss house
It's a lovely day, as all the housemates wake up to a song from Rangeela and immediately start dancing to it. After lunch, Amar Upadhyay, Siddharth Bhardwaj, Sunny Leone and Sky sit down and talk to each other about Sunny's life in Hollywood and how she has managed to reach where she is right now. Sunny tells them that when she was at the start of her career she had two choices – to study or to become a model. She chose the latter and now has her own production house. Sky jokes that he is just a phone call away – she he can call him anytime she wants and he will gladly go to Hollywood. To that Sunny says that she gets Bollywood offers very often but she accepted only Bigg Boss 5 and not the others as she didn't find them respectable enough.
Sky and Amar then have a general conversation about Shonali Nagrani and Siddharth Bhardwaj. Sky tells Amar that any time he, Pooja Bedi and Juhi Parmar will plan something, they will not include Siddharth. He also claims that Siddharth observes him and copies his style. Sky also warns Amar that Siddharth is now moving on to behaving like Amar, but Sid is too immature to be able to pull it off. Some time later, Pooja Bedi, Sky, Amar and Sunny meet and laugh at the way Shraddha talks. Juhi joins them and Sky imitates Shraddha's diction and dance steps.
Juhi is upset with the results of the daily task. Amar and Sky talk to Pooja Misrra over dinner about Juhi's distress. However Pooja Misrra instead says that Juhi should understand that no one here is playing fair games and that she should not take such things personally. Sky gets upset over Pooja Misrra's comments and tells her that she never understands anyone's feelings. Both end up arguing which leads to Pooja Misrra walking away from the dining table. She goes to the garden and meets Siddharth. She tells him about her argument with Sky. But Siddharth does not talk to her. She gets irritated with him too and walks away. The two meet again and Pooja Misrra accuses Sid of copying Sky and following his instructions.  Post this Sidharth and Pooja Misrra are seen having a heated argument since Pooja Misrra thinks that Sidharth is doing nothing but shadowing Sky and just following his instructions. Sid in turn accuses her of deliberately creating drama to get extra mileage on the show.
Pooja Misrra gets very upset and when Shraddha Sharma and Shonali Nagrani enter the room, she tells them about her argument with Sky and Siddharth. She gets even more upset and heads to the washroom. Siddharth meets her there and successfully pacifies her. The two patch up. Later Sky and Siddharth discuss Pooja Misrra's weird behaviour. Sky tells Sid that Pooja Misrra has definitely fallen for him. He adds that this is the only reason Sid was able to pacify Pooja Misrra so easily.