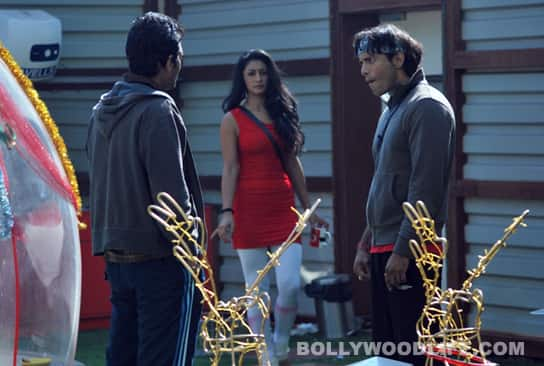 skip advertisement
Juhi and Sky talk to Bigg Boss as Mahek makes her grand reentry into the house
No contestant was evicted this weekend, and that really did not go down well with Juhi Parmar, Sky and Sunny Leone. They cribbed and cried, and finally a frustrated Sky claimed he doesn't want to be a part of the show anymore. So Bigg Boss calls him into the confession room and persuades him to stay back. That night, all the housemates decorate the house and celebrate Christmas. Amar Upadhyay and Siddharth Bhardwaj are celebrating in the garden and Sunny wants to go there too, but she is uncomfortable to do so without Juhi and Sky.
The next morning, on Christmas, a Santa arrives, wakes up and gives them gifts. Santa takes off her mask and reveals it is actually Mahek Chahal. Siddharth is happiest to see her, but it causes more trouble between Amar and Sky. Amar had told Sky a few days back how Mahek had told him that Sky had been violent with his ex-girlfriend. Now that Mahek is back, Sky confronts her and realizes that Amar has lied to him. He threatens Amar that if he doesn't apologise, he will reveal Amar's secrets to the other housemates. Amar then apologises to Sky.
All the housemate try to ask Mahek what the viewing public has to say about them. Mahek doesn't reveal anything, but she does tell Amar and Siddharth what she thinks of Juhi, Sky and Sunny. Meanwhile, since Juhi is irritated, Bigg Boss calls her to the confession room and talks to her. Juhi tells Sky and Sunny what Bigg Boss told her and finally returns to her happy mood. She hugs Amar and Siddharth, apologises to them and wishes them a merry Christmas. Late evening, Juhi, Sunny and Sky laugh over all that happened during the day.